Hobble Skirt
One short-lived fad around 1910 was the hobble skirt. A hobble skirt was a skirt with a narrow enough hem to significantly impede the wearer's stride. Parisian fashion designer Paul Poiret designed the restrictive skirts.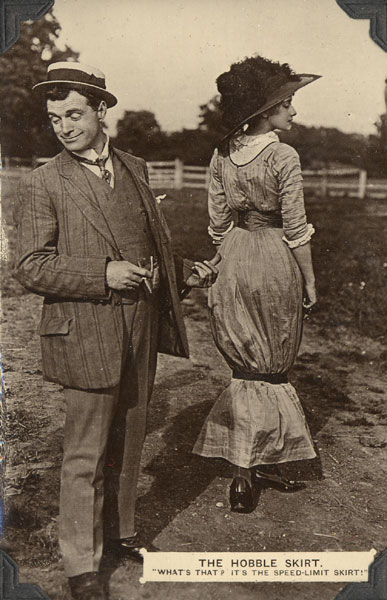 Observed Mrs. Hart O. Berg
It is thought he may have been influenced by observing the behavior of Mrs. Hart O. Berg when she took her first aeroplane flight in October 1908 with Wilbur Wright she tied a rope around the bottom of her skirt to keep it from blowing up during the flight. After Wilbur and Mrs. Berg landed, she walked away in a 'hobble' fashion until she could remove the rope from her skirt.
One newspaper writer from Bessemer, Alabama thought the fashion so ridiculous that he wrote the following article in his paper.
PLEASE DON'T GIRLS
Bessemer Weekly September 1910
Girls do not wear hobble skirts, we beg of you. To put it plainly don't make fools of yourselves. The merchants who offer them for sale laugh at the silliness of the women who buy them.
One prominent Birmingham merchant said to us: – "They are horrible things, but the women are demanding them, so we must offer them for sale."
Girls don't wear a garment which makes men turn and look at you on the streets and laugh. Don't wear anything which attracts (or) its conspiciousness (sic) and ugliness. Be dainty and neat, have a little independence of your own, and above all, be refined.