Have you ever heard the word mimeograph? In the 1940s and 1950s, it was a household word.
Advertisement in Life Magazine December 11, 1939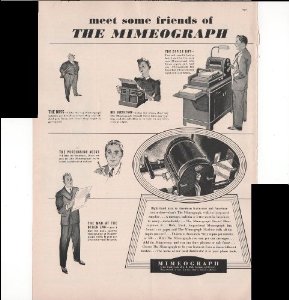 Making a copy of a document is easy today, but it was once a major task. Thomas Edison was only one of many inventors who looked for ways to make duplicates of documents easier.
Thomas Edison received US patent 180,857 for "Autographic Printing" on August 8, 1876. The patent covered the electric pen, used for making the stencil, and the flatbed duplicating press.
In 1880 Edison obtained a further patent, US 224,665: "Method of Preparing Autographic Stencils for Printing," which covered the making of stencils using a file plate, a grooved metal plate on which the stencil was placed which perforated the stencil when written on with a blunt metal stylus.
The word "mimeograph" was first used by Albert Blake Dick when he licensed Edison's patents in 1887. Over time, the term became generic for the word 'copy' and is an example of a genericized trademark.
Advertisement from 1889 for the Edison Mimeograph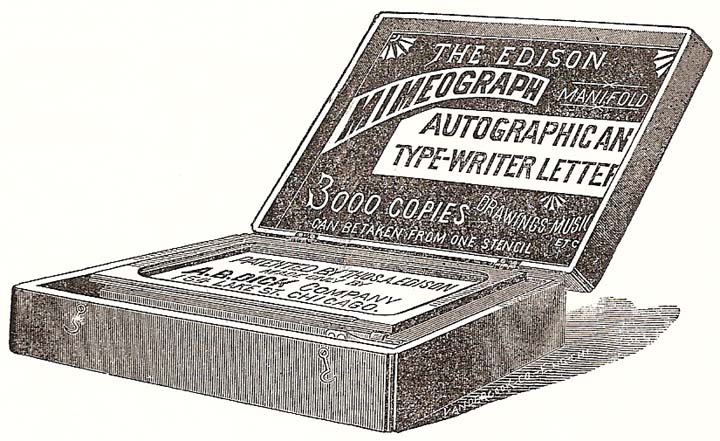 By 1900, two primary types of mimeographs had come into use: a single-drum machine and a dual-drum machine. The mimeograph became popular because it was much cheaper than traditional print – there was neither typesetting nor skilled labor involved. One individual with a typewriter and the necessary equipment became his own printing factory, allowing for greater circulation of printed material.
The image transfer medium was originally a stencil made from waxed mulberry paper. For printed copy, a stencil is placed in a typewriter. The impact of the type element displaces the wax, making the tissue paper permeable to the oil-based ink. This is called "cutting a stencil." It was difficult to correct the stencil when a mistake was made.
Mimeograph machines were especially popular in schools because teachers could make hundreds of copies from one stencil fairly inexpensively as seen in the video below. One drawback to the mimeograph machine was the purple ink getting on one's hands.
During the declining years of the mimeograph, some people made stencils with early computers and dot-matrix impact printers.
You might be surprised to know that Mimeograph machines continue to be used in developing countries because it is a simple, cheap, and robust technology. This is probably because many mimeographs can be hand-cranked, requiring no electricity.
SOURCES
Wikipedia
Court records dating back to the 1630s create historical accuracy as the reader is taken back to the primitive days of colonial Virginia and Maryland where the Pattendens encounter life-changing difficulties with Indians, ducking stools, illness, massacres, death, loneliness, love, and greed.
READER REVIEW OF 

RIBBON OF LOVE: 2nd edition – A Novel of Colonial America 

 Book one: The exhilarating action and subplots keep the reader in constant anticipation. It is almost impossible to put the book down until completion. – Dr. Don P. Brandon, Retired Professor, Anderson University