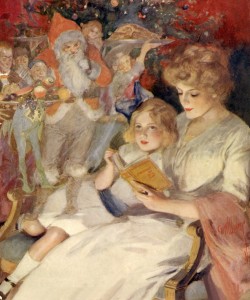 I Had a Mother Who Read to Me
By
The Reading Mother is the name of the poem from which my title is taken.  Written by a little known poet, Strickland Gillilan, the closing words are these:
You may have tangible wealth untold…
Caskets of jewels and coffers of gold…
Richer than I you can never be …
I had a mother who read to me!
And indeed I did have a mother who read to me!  My memory is not of her reading the old nursery rhymes or fairy tales.  We read real books – both fiction and biography.  Mother was an elementary school teacher in rural Kentucky.  Her resources for reading material were limited with the nearest library being at least 20 miles away.  Perhaps some of the books I remember were those she had kept from her own days of growing up in a large town.
The favorite author I recall was Gene Stratton Porter who wrote The Harvester,  Girl of the Limberlost,   Freckles,   and  Freckles Comes Home.  The basic theme for each of these books was the beauty of the natural world with a tender love story always woven in.
My favorite book was The  Harvester, the story of a young man whose profession involved his working in large forests. Under unusual circumstances, he saw a beautiful young woman and began to dream of a way to actually meet her.  More practically, he began to build a log house that would fulfill her wishes and desires.  Of course, the story ends with their living happily ever after.
When mother read The Harvester to me, my number one dream became to someday have a log house of my own.  My story came to pass quite differently.  First, "I got my man." Then forty-two years after our marriage, we built our log house.  It continues to be our personal retreat.
Mother and I also read and memorized poetry together.  Most memorable is Robert Browning's Pippa  Passes:
Pippa   Passes
The year's at the spring;
The day's at the morn;
Morning's at seven;
The hillside's dew-pearled;
The lark's on the wing;
The snail's on the thorn;
God's in His heaven –
All's right with the world!
A catchy little rhyme mother also taught me has perhaps been proven false here in the fall of 2008!
I cannot be a Washington
However hard I try –
But into something I must grow
As fast the days go by.
The world needs women good and true –
I'm glad that I can be one,
For that is even better
Than to be a Washington!