In the 1930s, Texas had plans to celebrate its 100th anniversary of independence from Mexico. The city of Dallas was chosen and on June 6, 1936, the exposition opened to huge crowds seeking to escape the hard-knock life of Depression-era Dallas.
Crowds fill the plaza in front of the Federal Building during the Texas Centennial Exposition. An estimated 6 million people visited Dallas during the six-month spectacle.
From a Shakespearean play, egg-laying contests and entertainers like Corinne the Apple Dancer, Texans enjoyed the extravaganza. One of the unusual exhibits was a 'mechanical man built by human hands' that talked.
The mechanical man gestured realistically with his arms and turned his massive head from side to side as it gave four-minute lectures on "Men and Machines."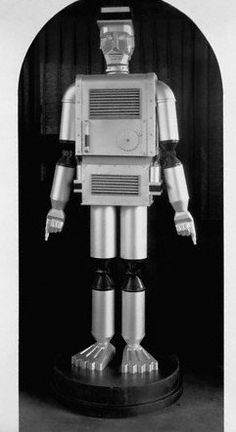 The Robot, built by a Pittsburgh factory, had built-in speech on men and machines which entertained the crowd. "A complicated, electrically operated mechanism, housed within the steel-plated torso of the seven-foot robot, synchronized lip, arm and head movements with the recorded speech reproduced through concealed loudspeakers."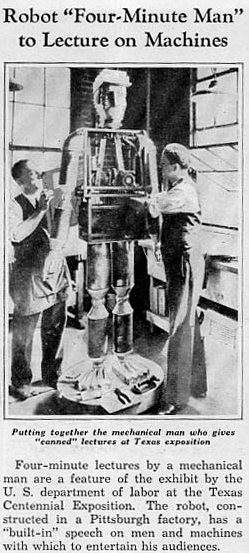 The robot first introduced itself with the greeting, "How do you do, friends?" "It is true," the robot continued, "that I, the machine, have taken the places of hand workers in some employments…But in spite of that evidence, I am and can be a real benefactor to mankind. In almost every case where I appeared in industry, I actually created more jobs and provided more employment for men and women…You see here examples of what I have done in providing quicker means of travel and communication, in protecting lives through automatic devices, and how I am making life easier and better for man, who is my master."
The first humanoid robot was exhibited at the annual exhibition of the Model Engineers Society in London. Invented by W. H. Richards, the robot Eric's frame consisted of aluminum body of armor with eleven electromagnets and one motor powered by a twelve-volt power source. The robot could move its hands and head and could be controlled through remote control or voice control.
Eric, invented by Captain W. H. Richards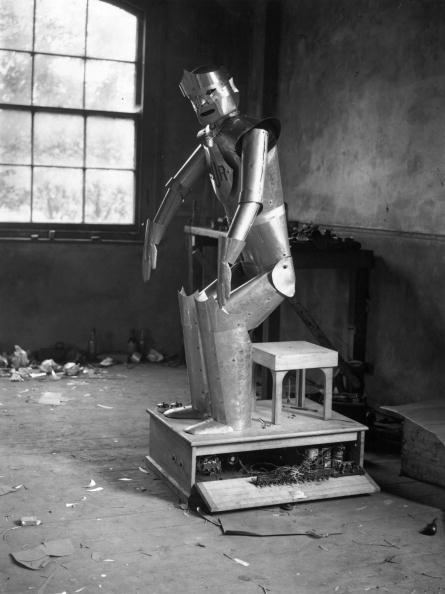 Westinghouse Electric Corporation built Televox in 1926, a cardboard cutout connected to various devices which users could turn on and off.
1928 Westinghouse Electric Corporation Televox robot