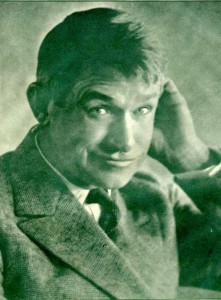 He was born to a prominent Cherokee Nation family in Indian Territory (now part of Oklahoma), four miles from a tiny, little place called Oologah on Dog Iron Ranch.
Both of his parents were part Native American, his father one-eighty and his mother one-fourth. For years his father sat in the councils of the Cherokees as one of the their wise men.
His parents were Clement Vann and Mary America (Schrimsher) Rogers. Clement was a Cherokee judge,  a Confederate veteran and he served as a delegate to the Oklahoma Constitutional Convention.
Their son, William Penn Adair "Will" Rogers (November 4, 1879 – August 15, 1935), was an American cowboy, vaudeville performer, humorist, social commentator and motion picture actor. He was one of the world's best-known celebrities in the 1920s and 1930s.
Will's mother wanted him to be a Methodist preacher
Will Rogers mother wanted him to be a Methodist preacher and during the first part of his life, he planned to go into the ministry. His father had high expectations for his son and desired him to be more responsible and business-minded. Will was more easygoing and oriented toward the loving affection offered by his mother, Mary, rather than the harshness of his father.
The personality clash increased after his mother's death, and young Will went from one venture to another with little success. Only after Will won acclaim in vaudeville did the rift begin to heal, but Clement's death in 1911 precluded a full reconciliation.
Dog Iron Ranch House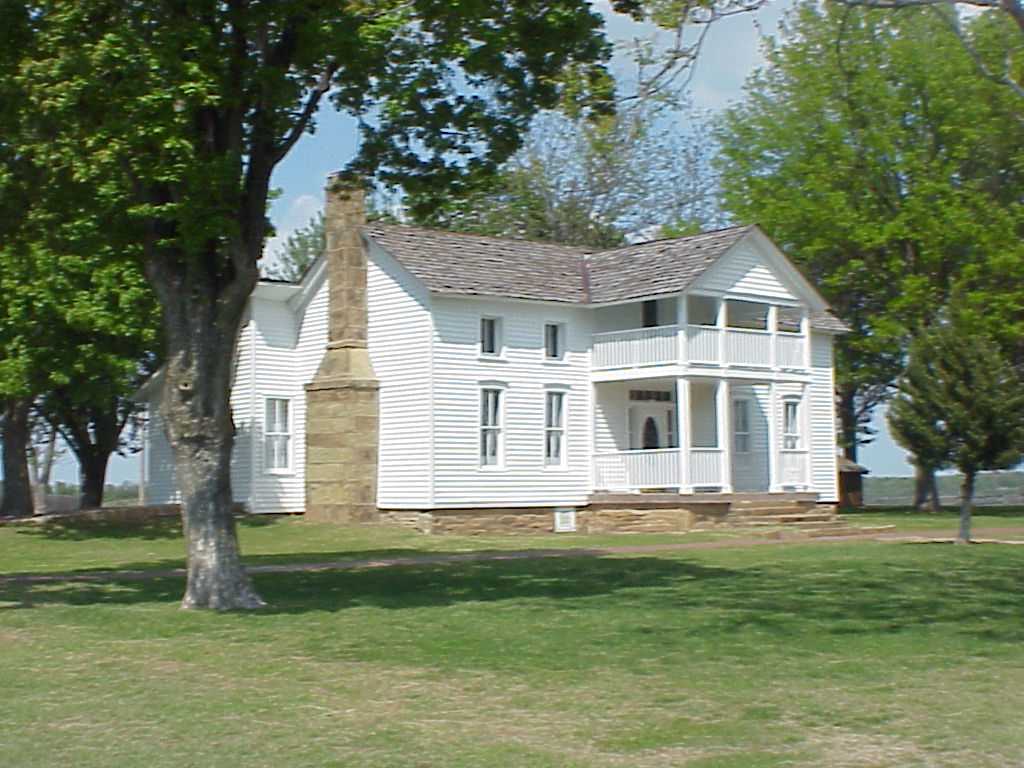 Rogers was a good student and an avid reader of The New York Times, but he dropped out after the 10th grade. He later claimed he was a poor student, saying that he "studied the Fourth Reader for ten years." He was much more interested in cowboys and horses, and learned to rope and use a lariat.
Rogers worked the Dog Iron Ranch for a few years. Near the end of 1901, he and a friend left home with aspirations to work as gauchos in Argentina.
Too Ashamed to send home for money
They arrived in Argentina in May 1902, and spent five months trying to make it as ranch owners in the pampas. Rogers and his partner lost all their money, and in his words, "I was ashamed to send home for more," so the two friends separated and Rogers sailed for South Africa.
It is often claimed he took a job breaking in horses for the British Army, but the Boer War had ended three months earlier. Rogers actually got work at James Piccione's ranch near Mooi River Station in the Pietermaritzburg district of Natal.
Starts his show business career
He began his show business career as a trick roper in "Texas Jack's Wild West Circus. After a while, Rogers quit the circus and went to Australia.
Texas Jack gave him a reference letter for the Wirth Brothers Circus there, and Rogers continued to perform as a rider and trick roper, and worked on his pony act. He returned to the United States in 1904, appeared at the St. Louis World's Fair, and then began to try his roping skills on the vaudeville circuits.
In the silent film below, he reveals his roping skills – his son Will is narrating
In 1908, Rogers married Betty Blake and the couple had four children: Will Rogers, Jr., Mary Amelia, James Blake, and Fred Stone. Will Jr. became a World War II hero, played his father in two films, and became a member of Congress. Mary became a Broadway actress, and Jim was a newspaperman and rancher; Fred died of diphtheria at age two.
The family lived in New York, but they managed to make it home to Oklahoma during the summers. In 1911, Rogers bought a 20-acre ranch near Claremore, Oklahoma, which he intended to use as his retirement home, for $500 per acre.
Hollywood discovers Will Rogers but he is restricted in his speech
Hollywood discovered Rogers in 1918, as Samuel Goldwyn gave him the title role in Laughing Bill Hyde.
A three-year contract with Goldwyn, at triple the Broadway salary, moved Rogers west. He bought a ranch in Santa Monica and set up his own production company.
While Rogers enjoyed film acting, his appearances in silent movies suffered from the obvious restrictions of silence—not the strongest medium for him, having gained his fame as a commentator on stage.
He made 48 silent movies, but with the arrival of sound in 1929 he became a top star in that medium. His first sound film, They Had to See Paris (1929), finally gave him the chance to exercise his verbal magic. Rogers appeared in 21 feature films.
With his voice becoming increasingly familiar to audiences, he was able to basically play himself, without normal makeup, in each film, managing to ad-lib and even work in his familiar commentaries on politics at times.
After Rogers gained recognition as a humorist-philosopher in vaudeville, he gained a national audience in acting and literary careers from 1915 to 1935. In these years, Rogers increasingly expressed the views of the "common man" in America.
He wore old, dilapidated clothes and he frequently drove into Hollywood or Los Angeles without a necktie and wearing boots and old, blue denim overalls with brass rivets in them. He was insured for a million dollars, but he seldom carried more than five dollars in his pocket.
Rogers made up word to fit his needs
Rogers was famous for his use of language. He effectively utilized up-to-date slang and invented new words to fit his needs. He also made frequent use of puns and terms which closely linked him to the cowboy tradition, as well as speech patterns using a southern dialect.
In this 1930 film below –  Will Rogers and ex-President Calvin Coolidge appear at the opening of the Million Acre Dam at Globe, Arizona, pan shot of area, Coolidge speaks to a crowd made up mostly of Indians, Coolidge smokes peace pipe, Rogers kids Coolidge. 1931: Dinner in Hollywood for Carl Laemmle in honor of Laemmle's 25 years in films, Will Hays speaking, Laemmle accepts award from Hays, Mary Pickford speaking, Cecil B. DeMille speaking, Will Rogers speaking.
Rogers is one of two Oklahoma statues in the National Statuary Hall Collection housed in the United States Capitol.
Oklahoma leaders asked Rogers to represent the state as one of their two statues in the Capitol, and Rogers agreed on the condition that his image would be placed facing the House Chamber, supposedly so he could "keep an eye on Congress."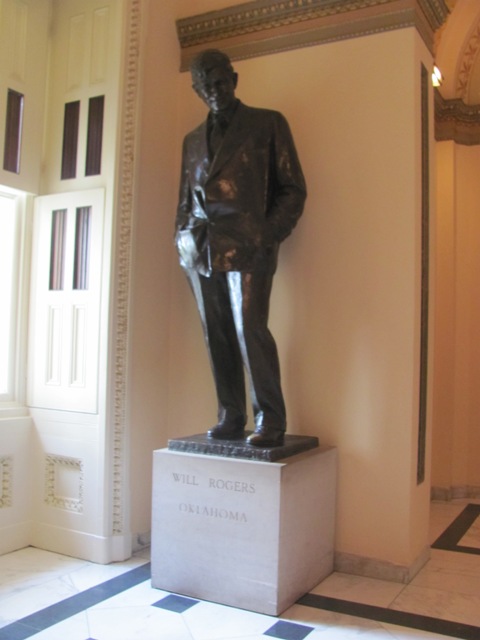 Of the statues in this part of the Capitol, the Rogers sculpture is the only one facing the Chamber entrance. According to guides at the Capitol, each President rubs the left shoe of the Rogers statue for good luck before entering the House Chamber to give the State of the Union address.
More on Will Rogers can be found at his official website
Try a trial Membership by clicking the link below. Join Amazon Prime – Watch Over 40,000 Movies & TV Shows Anytime – Start Free Trial Now
You can now give a gift of Amazon Prime  = click this link to learn how – Shop Amazon – Give the Gift of Amazon Prime
or