(Have you ever heard of Igor Sikorsky? He has a strong connection to the U. S. presidential office?)
Most people have never heard his name but his helicopters have flown the President of the United States since 1957 and his Black Hawk helicopters are known around the world. Few people know much about the man who immigrated to America from Russia in 1919 and within a few years built the largest commercial amphibious plane in the world.
In the 1920s and 1930s, inventors all over the world were interested in building bigger and better aircraft. Igor Sikorsky was no exception. Even though he met with success and his planes were sold to Pan Am, and flew over 10 million miles without an incident, few people have ever heard of him.

He made a small rubber band-powered helicopter when he was twelve
Igor was an American immigrant and aircraft engineer who was born in Kiev, the youngest of five children. "In 1900, at age 11, he accompanied his father to Germany and through conversations with his father, became interested in natural sciences. After returning home, Sikorsky began to experiment with model flying machines, and by age 12, he had made a small rubber band-powered helicopter.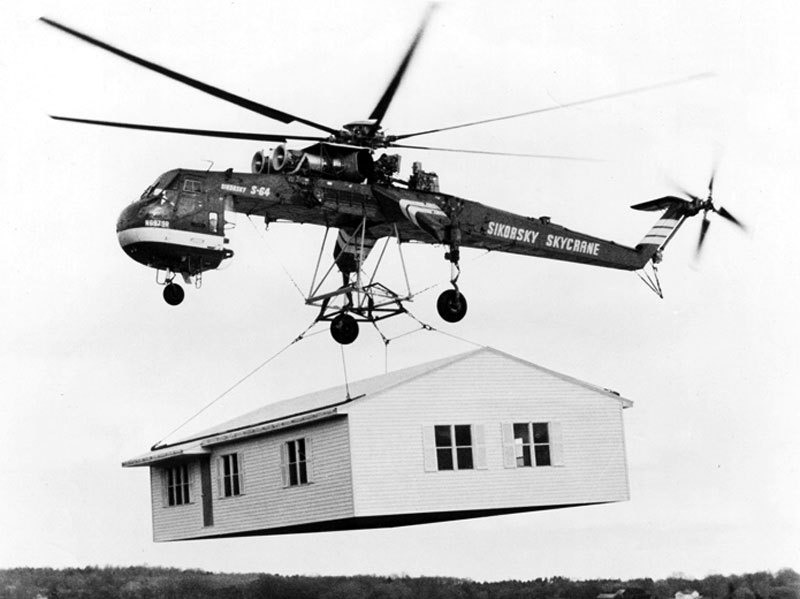 He studied at the Saint Petersburg Imperial Russian Naval Academy, in 1903 at the age of 14. In 1906, he determined that his future lay in engineering, so he resigned from the Academy and left the Russian Empire to study in Paris.
Immigrated to the United States in 1919
He returned to Russia in 1907, enrolled at the Mechanical College of the Kiev Polytechnic Institute. Sikorsky accompanied his father to Germany in the summer of 1908 where he learned of the accomplishment of the Wright Brothers Flying Machine and Ferdinand von Zeppelin's dirigible which inspired him to study aviation. Backed by a loan from his sister Olga, he returned to Paris to study aeronautics. Paris at the time was the center of the aviation world. He built and flew his 1st airplane in 1910. He was quite successful in building airplanes, but his main interest was in the building of a helicopter. Seeing little opportunity for himself as an aircraft designer in war-torn Europe particularly Russia, he immigrated to the United States in 1919.
Igor Sikorsky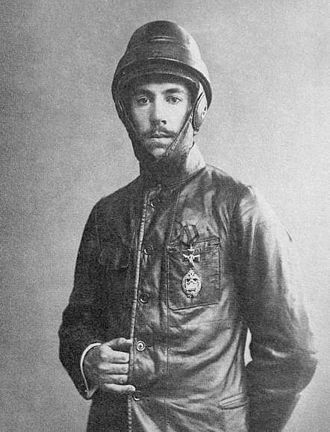 In 1925 he began aircraft production in Roosevelt, New York. He moved the company to Stratford, Connecticut in 1929 and the company became part of the United Aircraft and Transport Corporation in July. The company is still in existence and is now named United Technologies Corporation.
Sikorsky built the world's largest amphibian plane
Sikorsky originally concentrated on the development of multi-engined land planes, then later he worked on amphibious aircraft. In 1928, he became a naturalized citizen of the United States.
In 1930, he made the news with his plans to build the world's largest amphibian plane. The plane would be a land and water ship capable of carrying 41 passengers. The monoplane was to have a wing spread of 114 feet and the ship was to be powered with four Pratt and Whitney Hornet engines. Fully loaded, the monoplane would climb and fly with one motor stopped.
First plane was flown by Col. Charles A. Lindbergh
Two of the new liners were ordered by Pan American Airways on the advice of Col. Charles A. Lindbergh, who was the technical adviser for the company. The planes were to fly between Cristobal and Miami.
The monoplanes were designed to fly 900 miles without refueling with 24 passengers and 1,000 pounds of mail and baggage. Two non-stop hops over the Caribbean of 600 miles each were planned for the service.
The new series was to be known as the Sikorsky S-40 and would have a high speed at sea level of 129 miles an hour and a cruising speed of 108 miles an hour.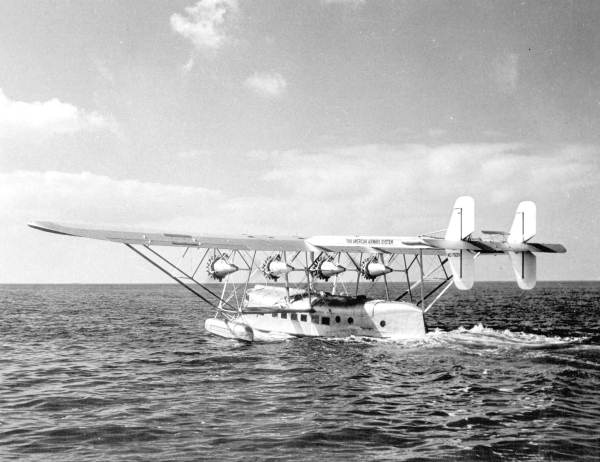 Seaworthy as well as airworthy, the boat hull was to be equipped with not less than five water-tight compartments, any two of which would keep the ship afloat. In case of damage to the side compartments, the gasoline tanks would keep the ship in balance on the water.
The cost for the planes was $250,000 and it was the largest commercial airliner of its time and the world's largest amphibious aircraft.
A total of three aircraft were built. The three aircraft in the S-40 series were:
NC80V – Caribbean Clipper
NC81V – American Clipper
NC752V – Southern Clipper
The aircraft featured a pantry with an electric refrigerator and stove as well as a beautifully appointed smoking lounge with book-ended mahogany wood paneling. Six life rafts were carried on board. Despite its significant capacity increase, the S-40s were not the most aerodynamic aircraft due in large part to the numerous flying wires and strut braces that were used as an exterior support framework. It was nicknamed "Flying Forest."
Passenger service was initiated on November 19, 1931, with the first S-40 piloted by none other than the famous Charles Lindbergh. He flew from Miami, Florida to the Panama Canal Zone with stops at Cienfuegos, Cuba, Kingston, Jamaica, and Barranquilla, Columbia.
His plane served as Pan Am's flagship
The American Clipper served as the flagship of Pan Am's clipper fleet and this aircraft model was the first to earn the designation of 'Clipper' or 'Pan Am Clipper'. The three S-40s served without incident during their civilian lives. They were flown over 10 million miles and turned over to the US Navy during WWII where they were used as trainers for four-engine flight instruction. They were eventually retired and scrapped in 1943.
Sikorsky company built Black Hawk and President's helicopter
In the late 1930s, sales declined and United Aircraft merged his division with Vought Aircraft where he began work on developing a practical helicopter. After first flying the VS-300, he developed the Sikorsky R-4, the first stable, single-rotor, fully controllable helicopter to enter large full-scale production in 1942, upon which the majority of subsequent helicopters were based. Sikorsky Aircraft remains one of the leading helicopter manufacturers and has produced the well-known models as the UH-60 Black Hawk and SH-60 Seahawk, as well as experimental types like the Sikorsky S-72 X-wing. The company is a leading defense contractor and has supplied the Presidential helicopter since 1957.
Igor Sikorsky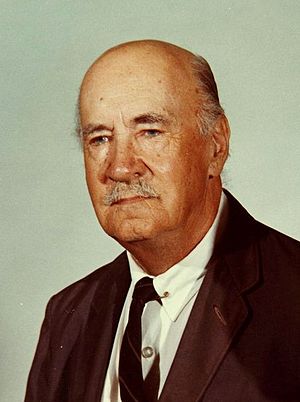 Sikorsky's main plant and administrative offices are located in Stratford, Connecticut. Other Sikorsky facilities are in Shelton, and Bridgeport, Connecticut; Fort Worth, Texas; West Palm Beach, Florida; and Huntsville and Troy, Alabama.
Sikorsky died at his home in Easton, Connecticut on October 26, 1972, and is buried in Saint John the Baptist Russian Orthodox Cemetery, located on Nichols Avenue in Stratford.
SOURCES
Wikipedia
Times Daily, Florence, Alabama February 18, 1930