DO YOU KNOW THE DIFFERENCE

 Sometimes we forget to teach our
children the little things
by
Recently I observed a young Boy Scout Troup performing a service project which involved putting up signs on a nature trail in Bluff Park, Alabama. It was quite a busy group of boys and dads on this sort of rainy Saturday.
It was a well organized group. They all came to work on this project wearing comfortable work clothes. Dads brought all sorts of equipment in their SUV's and trucks. There were post hole diggers to dig holes, wheelbarrows to transport the rakes, hoes, picks and shovels, and hammers and nails to mount the signs by the trees. The signs were nicely done to identify the trees or shrubs on the nature trail.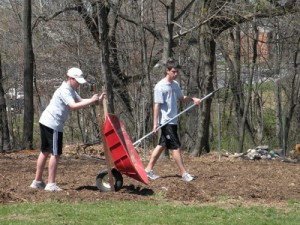 They also brought charcoal grills and the items to cook hot dogs after they finished. The mothers were on hand under the play ground patio to set up for the lunch.
One incident brought a smile to my face. One young scout came back from the group in a hurry. I supposed he was asked to come retrieve a piece of equipment needed for the project. He came over to the large wheelbarrow and began to lift all the hand tools one by one. He had a puzzled look on his face I could tell. Quietly he walked over to one of the mothers and asked in a whispered tone, "Can you tell me which one is the hoe?" The mother pointed out the hoe. To me this was priceless! Here was a young city boy who had probably never held a hand piece of equipment in his hand had to ask which one was the hoe. I bet he will remember now after using one!
I think we forget that our young people who are raised in the city don't have the opportunity to use a hoe or the ability to grow even a tomato plant in the back yard. They think all the fruits and vegetables come from "Andy's Market!" Maybe they could be taught the value of working with their hands and appreciate how hard their great granddads had to work on the farm.
Today was a good opportunity to learn.
I'm sure the young scouts did a great job putting up their signs that day. They sure did make my day!
May I suggest that maybe you take your young person to the "Home Depot" and introduce them to yard and farm equipment tools so they will know the purpose of each piece! Which one is the hoe?
Chinaberries and Other Memories of Alabama
 by Jean Butterworth
Check out genealogy and novels by Donna R. Causey
Chinaberries and Other Memories of Alabama