Troubles continue for Hightstown, New Jersey homesteaders
(continued from Troubles Loom Ahead for Hightstown, New Jersey Homesteaders)
Hightstown, New Jersey again ran into trouble in November of 1935 when "the factory plan was temporarily dropped by the Resettlement Administration, and Blitzer was dismissed. It was rumored that the project would be discontinued or that it would not include the Jewish homesteaders. In any case, all construction ceased."
On November 26, 1935, the Resettlement Administration announced that Jersey Homesteads would be completed, but that all responsibility for the project, including the factory negotiations, would be assumed by the Resettlement Administration. This left no assurance that the original plans would be followed. Brown was practically excluded from the project, and the homesteaders were indignant."1
(Stone masons at work at Hightstown, New Jersey by Carl Mydans Nov. 1935)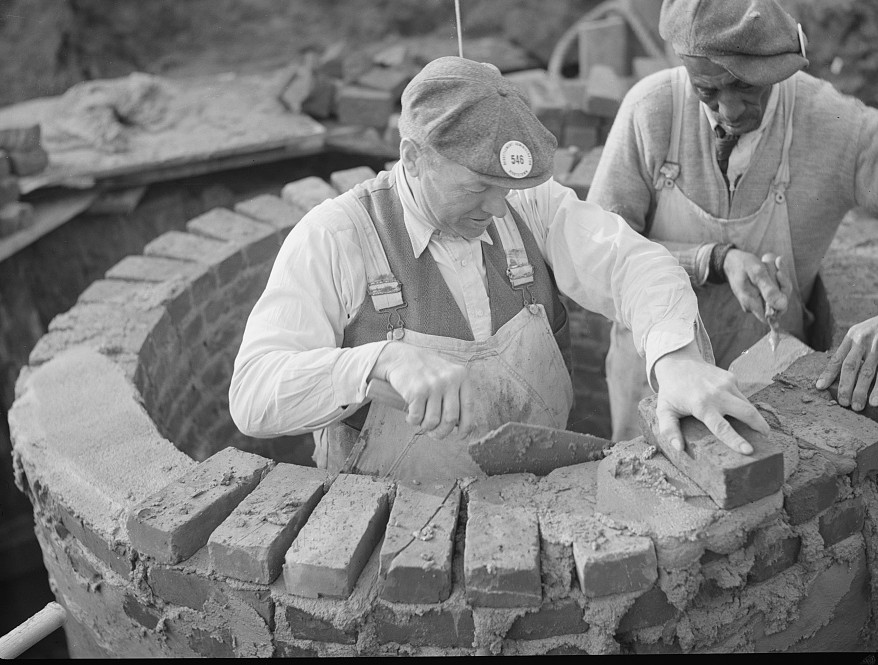 "Fortunately, the Resettlement Administration was able to secure Dubinsky's approval for a garment factory at Hightstown, provided it was operated cooperatively from the very beginning. With this plan in view, the homesteaders organized a Workers' Aim Association for the operation of the factory, and the Resettlement Administration announced that it would go on with the original plans."2
(Opening of the garment factory, Hightstown, New Jersey 1935 Carl Mydans)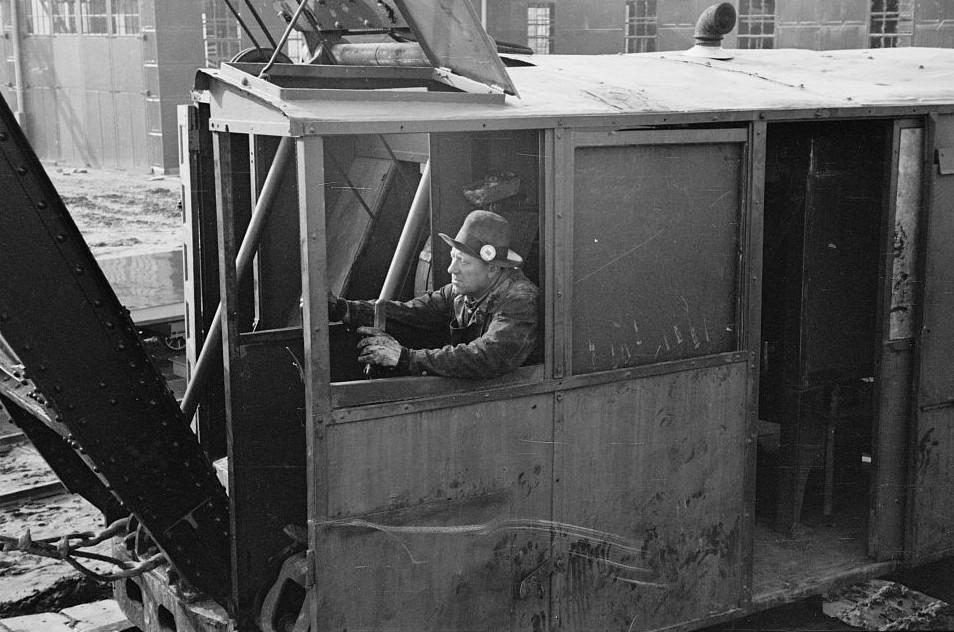 "The first two years at Jersey Homesteads were years of controversy; the two years of construction were years of extravagance. Tugwell, interested in developing new, inexpensive methods of prefabricating houses, used Jersey Homesteads as an experiment.
(1st slab of concrete at Hightstown, New Jersey by photographer Carl Mydans)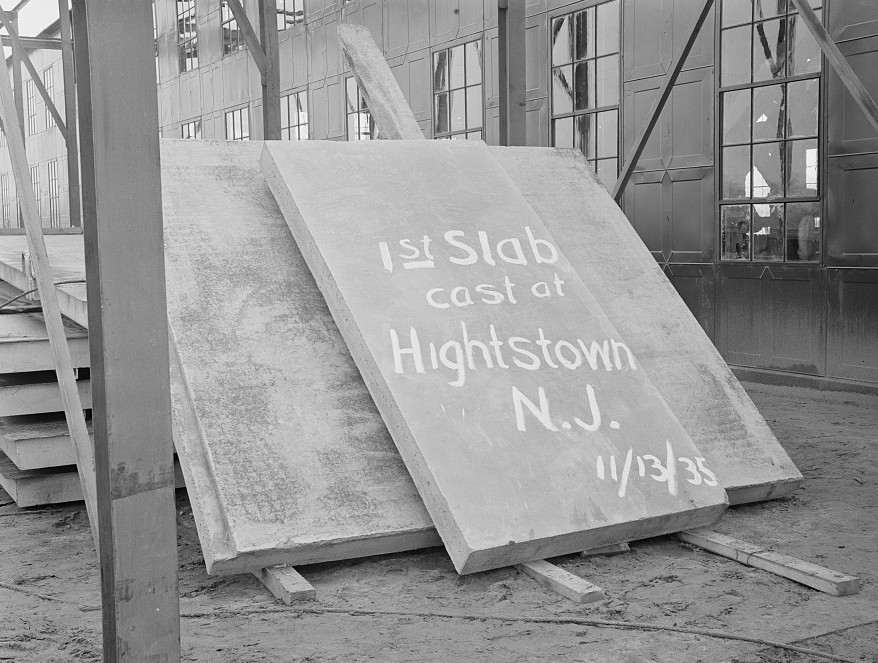 In the fall of 1935, approximately $200,000 was spent in erecting factories to manufacture concrete slabs for the sides and roofs of the homes. Yet when the first such construction was attempted, the walls collapsed. The whole process was abandoned. The concrete slabs were actually used for roofs, and the factory was used to manufacture concrete blocks until it was discovered that they cost about three times as much as those purchased from private manufacturers.
(Metal plates to be used in casting concrete slabs at the Jersey Homesteads, a U.S. Resettlement Administration subsistence homestead project, by photographer Carl Mydans Nov. 1935)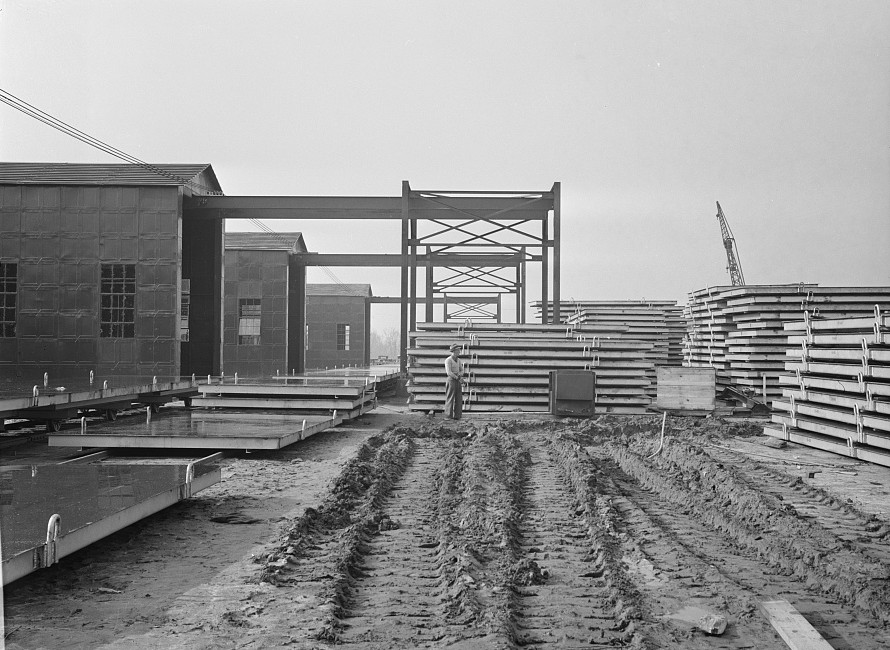 (View of metal sheds and slab platforms. These were used in the manufacture of concrete slabs to be used in the construction of the houses at the Jersey Homesteads by Carl Mydans Nov. 1935)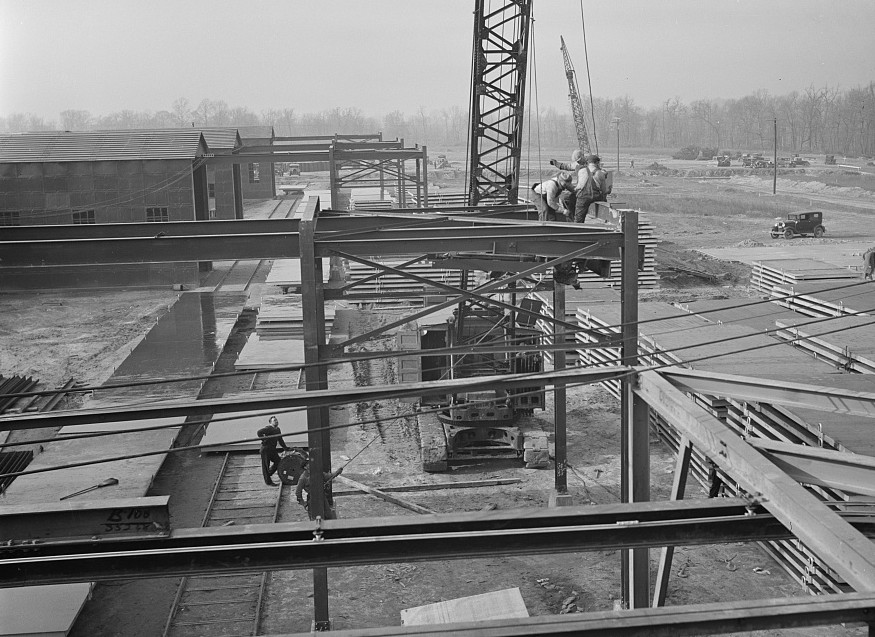 This and other early mistakes led to an unpopular order to exclude all visitors from the construction area and to the posting of guards at the entrances."3
(Construction of Houses 1936 photographed by Russell Lee)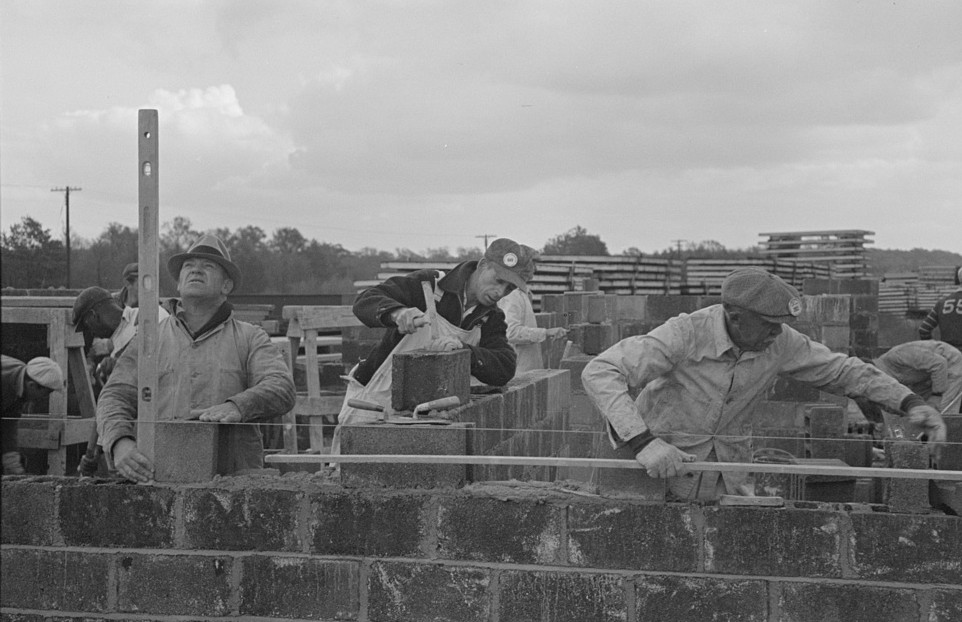 "In January 1936, the Resettlement Administration began an accelerated construction program at Hightstown. Even though the construction was delayed by procedural snags and Works Progress Administration labor regulations, the factory was completed by May, and several homes were well  under way."i
 (Houses under construction by photographer Russell Lee May 1936)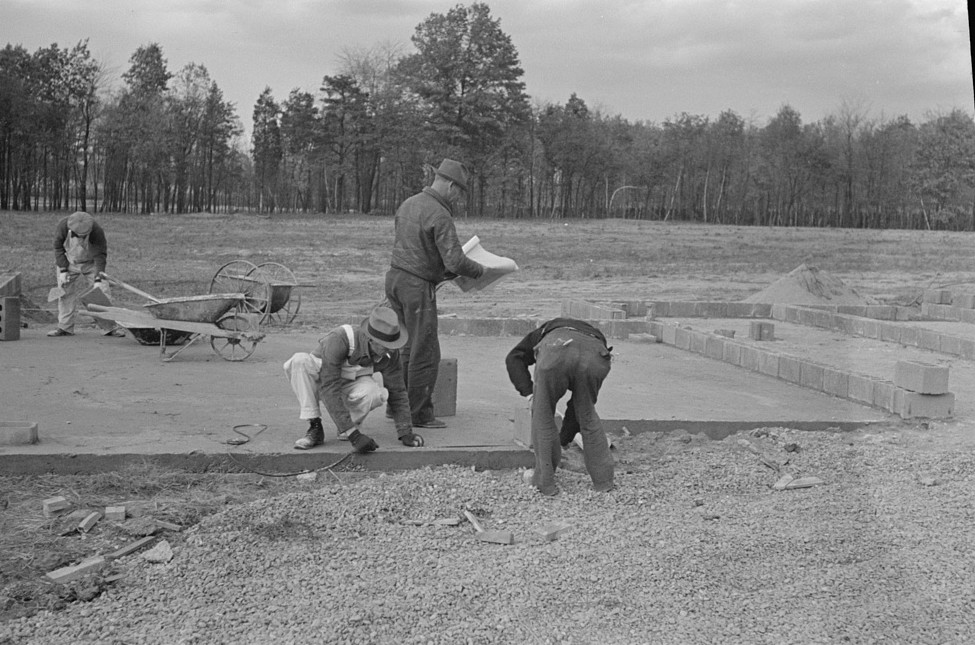 (Hightstown Homes under construction by photographer Dorothea Lange, June 1936)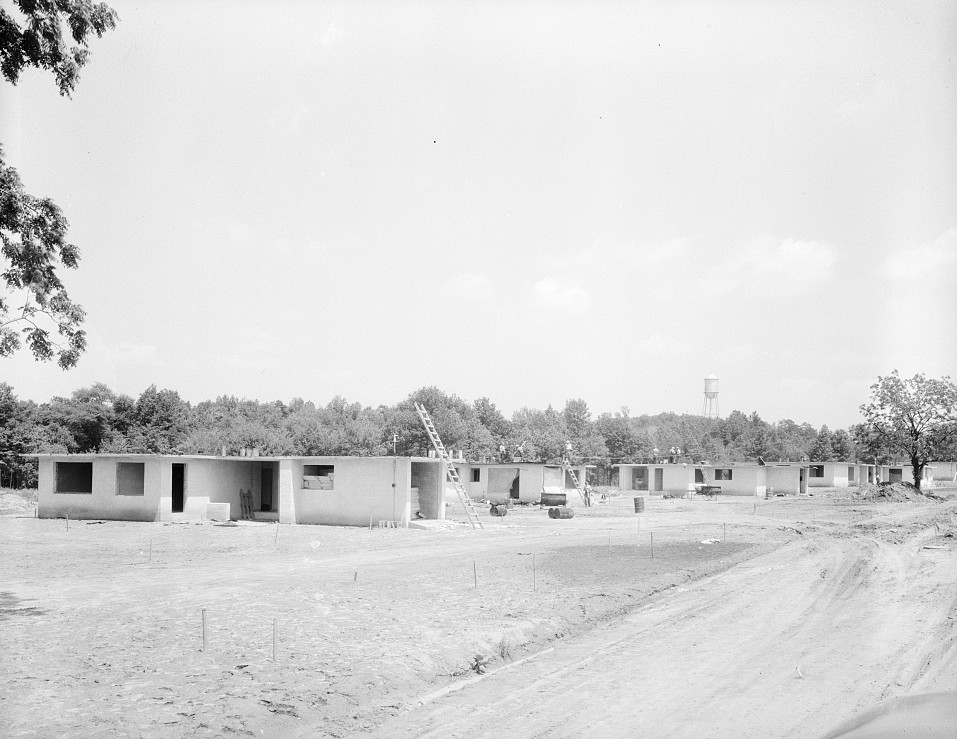 (Laying a foundation for the construction of a house May 1936 by photographer Russell Lee)
(The two photographs below are of a new type of two-story house photographed by Russell Lee May 1936 at Hightstown, New Jersey)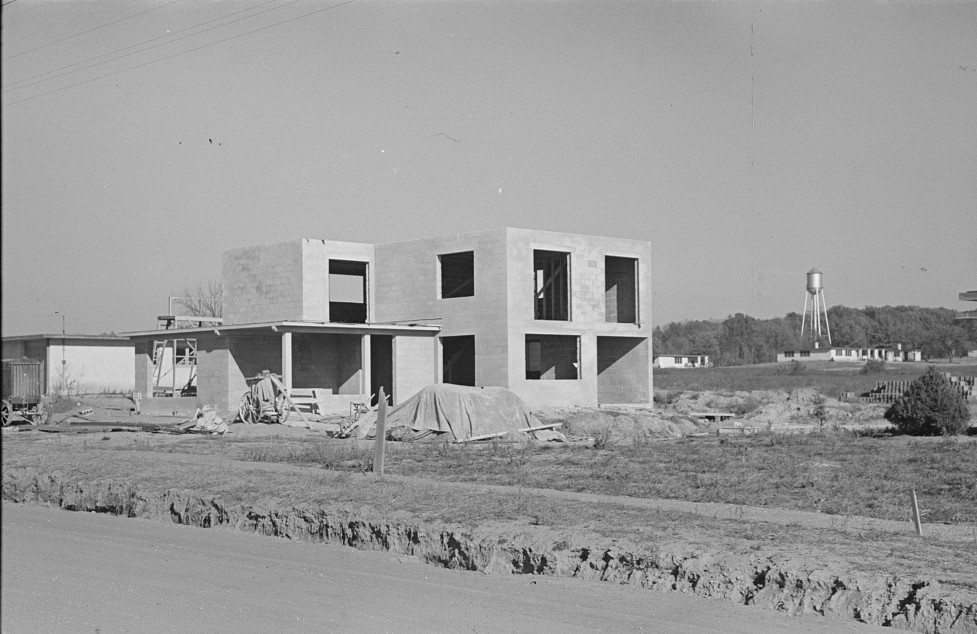 "By July 1936, the first seven of the flat-roofed bungalows were occupied. Most of the other 193 homes were completed by January 1937."4
(Continued – Hightstown, New Jersey –  Moving Day and a Surprise Statue)