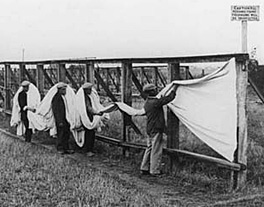 This is one of the most misquoted sayings. The word tenterhooks is often stated as tenderhooks. To be on tenterhooks is to be filled with painful or anxious anticipation or suspense, such as when you're waiting for the result of an important medical test.
A tenterhook is a metal hook that holds the cloth in place on the tenter, and the frames were set out in fields so the wool could dry.
After woven wool was pounded in a mixture of clay and water to clean and thicken it. This was called fulling. Then the wool was stretched on a frame called a tenter to dry. It was hung on tenterhooks. So if you were very tense, like stretched cloth, you were on tenterhooks.
Where Do I Start?: HINTS and TIPS for BEGINNING GENEALOGISTS with ONLINE RESOURCE
Do you need some guidance in your genealogy search? Save time and avoid pitfalls in your research. This book provides simple, no-nonsense instructions to help you get started. Many FREE research links are included. Where Do I Start is filled with Hints and Tips to begin your family genealogy research and acquire Genealogy information.
WHERE TO FIND – on-line resources, experienced genealogists will not be aware of many of these.
COURT RESEARCH – how to do court house research, where to find birth, death, social security records free on-line.
EIGHTY – ONE QUESTIONS – you should ask your elderly loved-ones before it's too late.
TIPS ON BREAKING DOWN THE WALL – Everyone faces some difficulties in research, often called a 'brick wall' but WHERE DO I START? provides suggestions for overcoming them.