*Note: The language below may be a little antiquated because they are excerpts and exact transcriptions from the book  –Transcription from Historic Houses of New Jersey By Weymer Jay Mills .J. B. Lippincott Company – written in  1902
Best loved house
The house best loved by the old residents of Elizabethtown, New Jersey is the Scott House, often referred to as Hampton Place. For many years, during intervals sometimes short and sometimes lengthy, it was the home of General Winfield Scott, the greatest American general of his day. General Winfield Scott (1786-1866), hero of Mexican War and Whig candidate for 1852 presidency, moves into his father-in-law's home on East Jersey and Madison Avenues and resides there until his death in 1866.
General Winfield Scott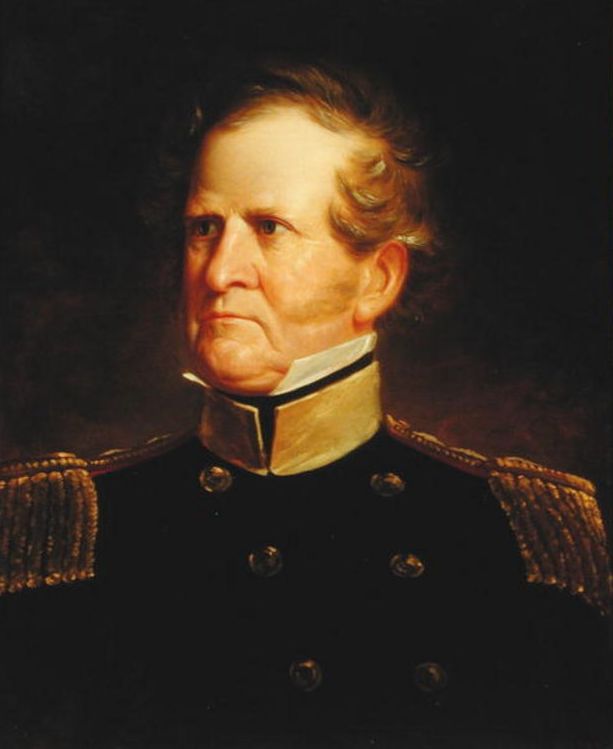 It was erected at about the same time as the neighboring mansion on Scott Place, but owing to a few alterations in its structure in the latter part of General Scott's life, it does not impress the casual observer with any great antiquity. Without a history it might not secure a passing glance.
Shy blinking house
It could best be described, like the "shy looking house" in "Barnaby Rudge," as "not very straight, not large, not tall; not boldfaced with great staring windows, but a shy, blinking house, with a conical roof going up into a peak over the garret window of four small panes of glass, like the cocked hat on the head of an elderly gentleman of one eye."
Dr. Barnet, a surgeon in the American army, was the first occupant. He is credited with introducing vaccination into the town. From what can be learned of him he had many patients who were subject to his whimwhams and humors.
It is related that when the British raided his home, on the day they were seeking the bridegroom at the Belcher Mansion, they took a fine string of red peppers from his fireplace, and he bemoaned their loss more than his broken furniture and smashed mirrors.
Might receive a box on the ear
There is also another amusing tradition that the patient who disturbed him, when in a crotchety mood, for some imagined ailment was as liable to receive a box on the ear as a phial of medicine. In Dr. Barnet's time the willow-trees which formerly surrounded the house were planted. They were slips from a tree at "La Grange," and were brought from abroad by his nephew when on a continental tour.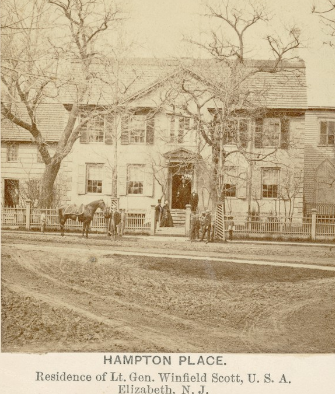 Sold to John Mayo
At the beginning of the nineteenth century the house was sold to Colonel John Mayo, of Virginia, the father of Mrs. Scott. Elizabethtown, like Newark, was then a great summer resort for Southerners, and the colonel, a true exponent of the elegant aristocracy of Richmond, kept open house for the neighborhood.
His equipages were always finer, his family's clothes more costly, and their style of living grander than those of any of his friends, and like the gentlemen of the old Southern type, he lived and died satisfied.
In those summers of the long ago Mrs. Scott and her sisters daily went to a little French school in a house near the creek, now destroyed, then presided over by Madame Topray, a beautiful French refugee, whose romance, if she had one, is forgotten.
French refugees fair and beautiful
"The women among those old French refugees  of Elizabethtown have all come down to us as fair and beautiful, and they flit through its unrecorded pages like the scents of lavender or rose-leaves clinging to old garments,—faint, but very sweet indeed. We know they were welcomed and found peace there, for in St. John's church-yard there is one headstone that shelters the bones of the Demoiselle Julie du Buc de Marencille, born in the island of Martinique, whose brother recommends the care of her tomb to the "hospitable inhabitants" of the town."
Mrs. Winfield Scott (Maria D. Mayo) ca. 1831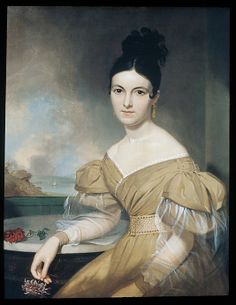 Lonely when husband was away
Although Mrs. Scott blossomed to womanhood in Elizabethtown, and spent some of the first years of her married life there with her dashing husband, it is with a later period that she is always associated—those lonely stretches of years when "he was away on the fields of battle, and the glad time when he came home to join her for good, like Alexander, with no more worlds to conquer."
"We are wont to revert to the scenes of earlier years in old age, and there are many who walked the shady streets of Elizabethtown in the days when the South's secession was being talked over who retain in their memories the picture of a tall old gentleman of commanding figure, with white locks gleaming from under his hat and an army coat thrown over one shoulder, shaking his head sadly to groups of friends at the street corners, and saying, " It will never do! It will never do!"
General Scott was fond of society
General Scott was very fond of society, and rarely sat down to a meal without company. During his periods of residence at Hampton Place the visitors' roll contained names representing celebrities from all over the country and abroad, who journeyed to gaze on the laurel-crowned hero.
Hampton Place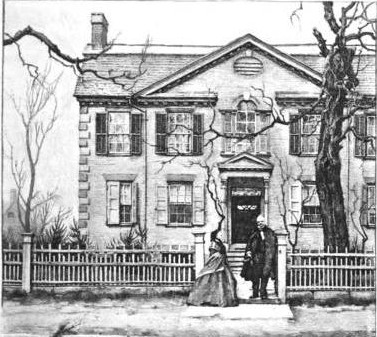 Gallant and courteous to old ladies
He was always very fond of the conversation of intelligent and refined women, and was especially gallant and courteous to old ladies. From the time of his young manhood, when touring abroad and meeting the aged Lady Frankland, our own Rebecca Franks, one of the Tory belles of the Meschianza, to whom his graceful compliments were so pleasing, until his death, he was a maker of pretty speeches.
These were the more appreciated by their recipients, as the general opinion was that his manners were rather gruff, owing to a haughty nervous temperament which never bore contradiction with any show of compliance.
A story illustrating his gallantry is related of a lady, the widow of one of his former aides, that once, on receiving the same compliment he had paid her on many occasions, —" Madam, you are as beautiful as the morning,"—she smilingly replied, "Nay, general, you are a flatterer, for your sun never gets any higher or lower,—wrinkles and dim eyes go best, unfortunately, with the evening."'
Gen. Winfield Scott with Officers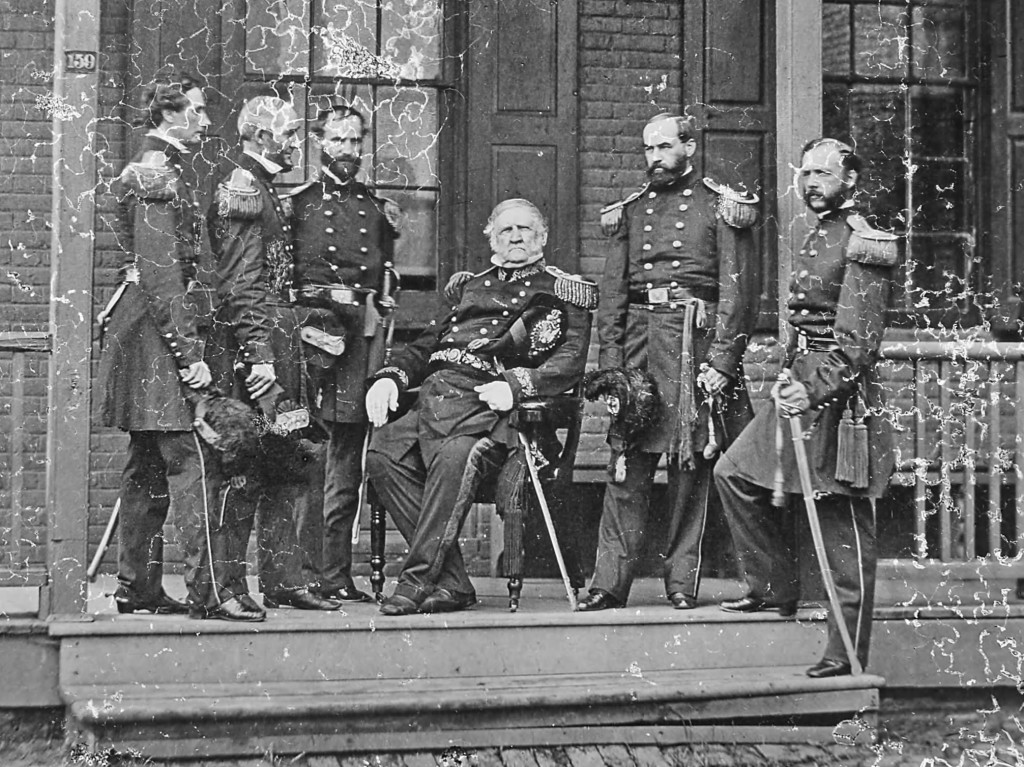 Loyal to native state of Virginia
General Scott was a loyal son of his native State, Virginia, and to a chance visitor at Hampton Place, who asked if he was born in New England, he is said to have shown the door. The lovely Virginia belles who used to adorn his balcony the last summer he spent in Elizabeth, before his retirement from the army at the outbreak of the Civil War, are still talked of by old Elizabethans.
To enter his heart one only needed to talk of old Dinwiddie County, whose every product he lauded above all others. He was very fond of his horses and dogs, and quite fitting for the final words of a soldier and a true Virginian was his last whispered message to his old coachman before death robbed America of its greatest general at the West Point Hotel in the spring of 1866,—" Peter, take good care of my horse."
Other occupants of Hampton Place
Among the other distinguished occupants of Hampton Place in later years was Mr. Archibald Gracie, son of the old New York merchant of that name. The Gracies were related to the King family, of Highwood, and President Charles King of Columbia College was a warm friend and frequent visitor of General Scott. Its last owner for a number of years has been Mr. R. W. Woodward, to whose unfailing kindness and interest in its history many a frequenter of Elizabeth is indebted.
The house was razed in 1928 and a replica erected on Westminster Avenue in 1931, now occupied by the NJ branch of the American Cancer Society. (Visit historical Elizabeth New Jersey)
SOURCES
Library of Congress
Historic Houses of New Jersey By Weymer Jay Mills .J. B. Lippincott Company, 1902
Amazon.com – Read eBooks using the FREE Kindle Reading App on Most Devices
Try a trial Membership by clicking the link below. Join Amazon Prime – Watch Over 40,000 Movies & TV Shows Anytime – Start Free Trial Now
You can now give a gift of Amazon Prime  = click this link to learn how – Shop Amazon – Give the Gift of Amazon Prime