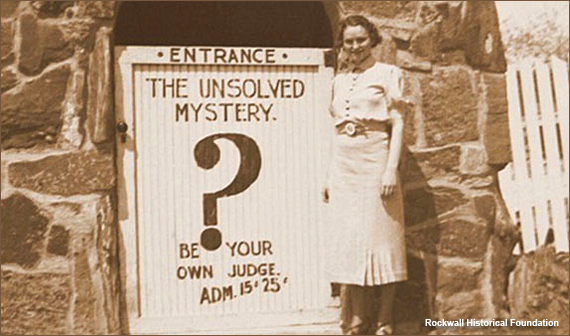 Rockwall's stone archway
Rockwall, Texas, mentioned in a recent article, is the county seat of Rockwall County. Located at the intersection of State Highways 66 and 205, it is a town shrouded in mystery. The town name of Rockwall comes from a geologic formation in the town.
"A stone archway on private property a few blocks west of the town square is all that remains visible, and even that is overgrown by vines and brush." In 1949, the archway got filled in with dirt and forgotten.
First Family Arrived 1840's
The first Anglo-Saxon family to settle in the area of Rockwall arrived in the 1840s. The Boydstun family of Illinois settled on 572-acres near the East Fork of the Trinity River and shortly afterward a number of settlers followed. In 1852, a Baptist church was established and two years later Elijah Elgin donated forty acres on a hill above the East Fork in the Trinity River to establish a town.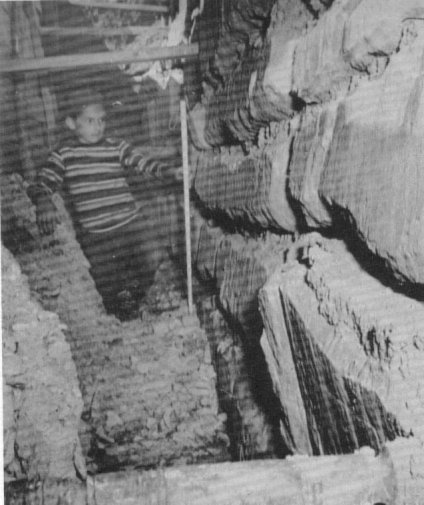 In 1851, when the settlers started to dig wells, they found large underground rock walls that were initially believed to be manmade.
Town named for rock walls
The town was established on April 17, 1854, and named after these rock walls.
While originally part of Kaufman County, in 1873, Rockwall County was formed with Rockwall being the county seat. Blackland and Heath moved to the new county seat, increasing the Rockwall population to close to 1,000 by 1890. Residents were served by three churches, a school, and about a dozen businesses, including a weekly newspaper, the Rockwall Success.
Became a shipping point
In 1886 the Missouri, Kansas, and Texas line reached Rockwall, and it became a shipping point for cotton, wheat, and corn. The population was 37,490 at the 2010 census and Rockwall County is now the third wealthiest county in the state of Texas.
Apparently, in 1886, renewed interest in the rock wall accelerated with according to The Rock Wall Phenomenon, an article was reported on Friday, May 28, 1886, by the Rockwall Success, Rockwall County's first newspaper.
Rockwall Success May 28, 1886
"The greatest wonders that we have to record this week is the finding of a petrified human skull. While at work last Saturday, Ben Burton unearthed with his plow, a gigantic skull, fully as large as a half-bushel. The staring sockets wherein the eyeballs once rolled, were as large as a half-gallon cup.
Some few of the jaw-teeth still remained; one of them about an inch thick by two inches long. This goes to prove that this county was once inhabited by a race of people that would be wonderful to look at now.
Dr. Wiggins thinks it the skull of some ante-diluvian giant, that would have weighed at least 1000 pounds. Anyone wishing to see this mammoth skull can do so by calling at The Success office, as Mr. Burton says he will leave it there for inspection. –– Sam Slick"
and from the same source
on June 4, 1886, the Rockwall Success No. 19, reported:
"Wonders will never cease. Immediately after it was generally known that Mr. J. B. Burton had found the gigantic petrified skull, a large crowd collected and set about making an examination of the surrounding ground.
Spades, picks, and axes were plentiful and in use. Mr. W. R. Grier might have been seen pounding the ground with a huge hammer, and intently listening after each successive blow, when he was heard to call out, "This way boys!" There was a general rush to his position. "Listen, Boys," said Grier as he brought the hammer down with a heavy thump on a large flat rock.
To the astonishment of all, the hammer slipped from Grier's hands, and after a short interval, was heard to strike something below that had the clear distinct ring of metal.
Now the wildest excitement prevailed.
A lantern and rope were quickly brought, and the earth was rapidly cleared away. The hole in the rock, which proved to be slate, was enlarged and the lantern was let down into the murky darkness.
At last Messrs Burton, Grier and J. B. Steger volunteered to descend and explore the mystery. The cavity proved to be a chamber about 60×100 feet square, and 40 feet from the floor to the slate roof through which they had effected an entrance.
This roof was supported on pillars of black marble, whose polished sides glittered in the lamplight and made one think of the orient.
Whether natural phenomenon or not, interest still remains about the rock wall for which the town was named as the WFAA reports in 2012. Hopefully, answers to this strange rock-wall will one day be answered. For more information, try contacting the Rockwall County Historical Foundation or WFAA
History Channel recently had a documentary on the Wall and it can be seen here on Amazon Video Great Wall of Texas [HD]

SOURCES:
James L. Glenn, Centennial Reminiscence, June 8–13, 1954: A History of Rockwall, Texas and Surrounding Communities (Rockwall: Centennial Historical Committee, 1954).
Rockwall County Historical Foundation, Rockwall County History (Dallas: Taylor, 1984). Vertical Files, Dolph Briscoe Center for American History, the University of Texas at Austin.