Samuel Langhorne Clemens was born in the city of Florida, Missouri, on November 30, 1835, two weeks after the closest approach to Earth of Halley's Comet. He died April 21, 1910, one day after the comet's closest approach to Earth.
He was the son of Jane ( Lampton: 1803–1890), a native of Kentucky, and John Marshall Clemens (1798–1847), a Virginian by birth. His parents met when his father moved to Missouri and were married several years later, in 1823. He was the sixth of seven children, but only three of his siblings survived childhood: his brother Orion (1825–1897); Henry, who died in a riverboat explosion (1838–1858); and Pamela (1827–1904). His sister Margaret (1833–1839) died when he was three, and his brother Benjamin (1832–1842) died three years later. Another brother, Pleasant (1828–1829), died at six months.
Samuel Clemens, age 15
Samuel Langhorne Clemens (November 30, 1835 – April 21, 1910), better known by his pen name Mark Twain, was an American author and humorist. He wrote The Adventures of Tom Sawyer (1876) and its sequel, Adventures of Huckleberry Finn (1885), the latter often called "the Great American Novel".
Birthplace of Samuel Langhorne Clemens in Florida, Missouri ca. 1890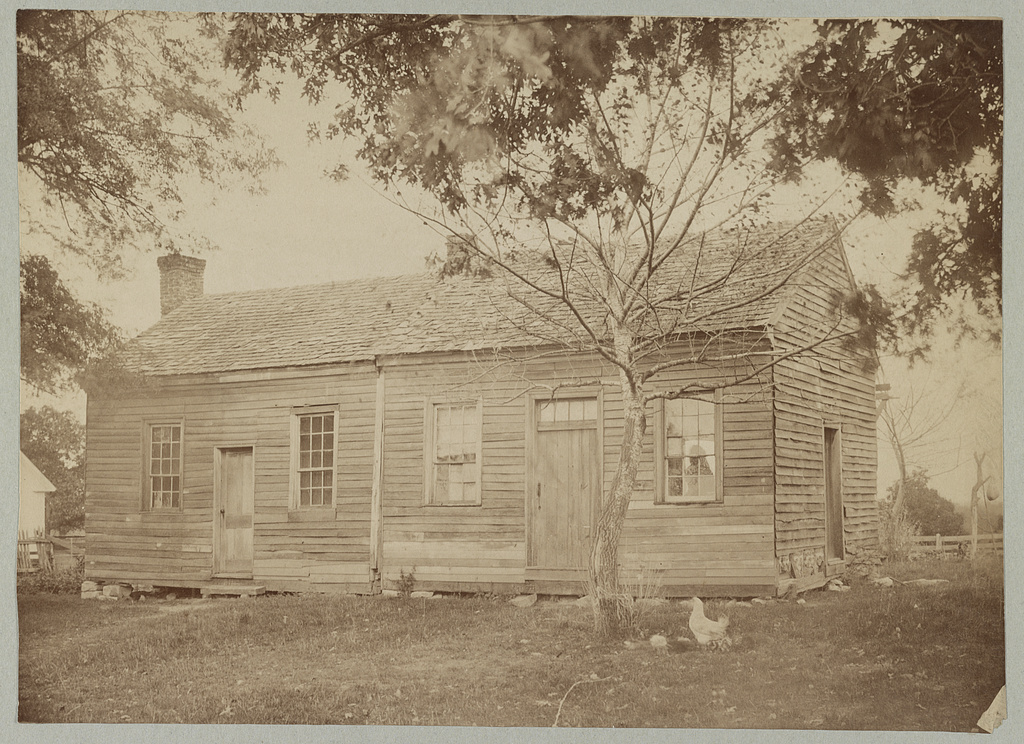 Mark Twain at his birthplace ca. 1900
When he was four, Twain's family moved to Hannibal, Missouri, a port town on the Mississippi River that inspired the fictional town of St. Petersburg in The Adventures of Tom Sawyer and Adventures of Huckleberry Finn. Missouri was a slave state and young Twain became familiar with the institution of slavery, a theme he would later explore in his writing. Twain's father was an attorney and judge.
FRONT FACADE – Mark Twain House, 206 Hill Street between North Main & First Streets, Hannibal, Marion County, MO
Northeast side – Mark Twain House, 206 Hill Street between North Main & First Streets, Hannibal, Marion County, MO
FRONT AND SIDE FACADES – Mark Twain House, 206 Hill Street between North Main & First Streets, Hannibal, Marion County, MO
In 1847, when Twain was 11, his father died of pneumonia. The next year, he became a printer's apprentice. In 1851, he began working as a typesetter and contributor of articles and humorous sketches for the Hannibal Journal, a newspaper owned by his brother Orion. When he was 18, he left Hannibal and worked as a printer in New York City, Philadelphia, St. Louis, and Cincinnati. He joined the newly formed International Typographical Union, the printers union, and educated himself in public libraries in the evenings, finding wider information than at a conventional school. Clemens came from St. Louis on the packet Keokuk in 1854 and lived in Muscatine during part of the summer of 1855. The Muscatine newspaper published eight stories, which amounted to almost 6,000 words.
Below: Mark Twain's boyhood friends Standing – Noval [i.e. Norval] L. Brady, age 82. Son of James Brady, first mayor of Hannibal, Mo. Dr. B.Q. Stevens, age 85. Boyhood friend of Mark Twain. J.L. Robards, age 84. Boyhood friend of Mark Twain. Sitting – Moses D. Bates, age 84. Son of Moses D. Bates, founder of Hannibal, Mo. Mrs. Elizabeth Frazer, age 84. "The real Becky Thatcher." T.G. Dulaney, age 81. A counter part of Mark Twain -photo by Jean & Hal Frazer, Hannibal, Mo. 1922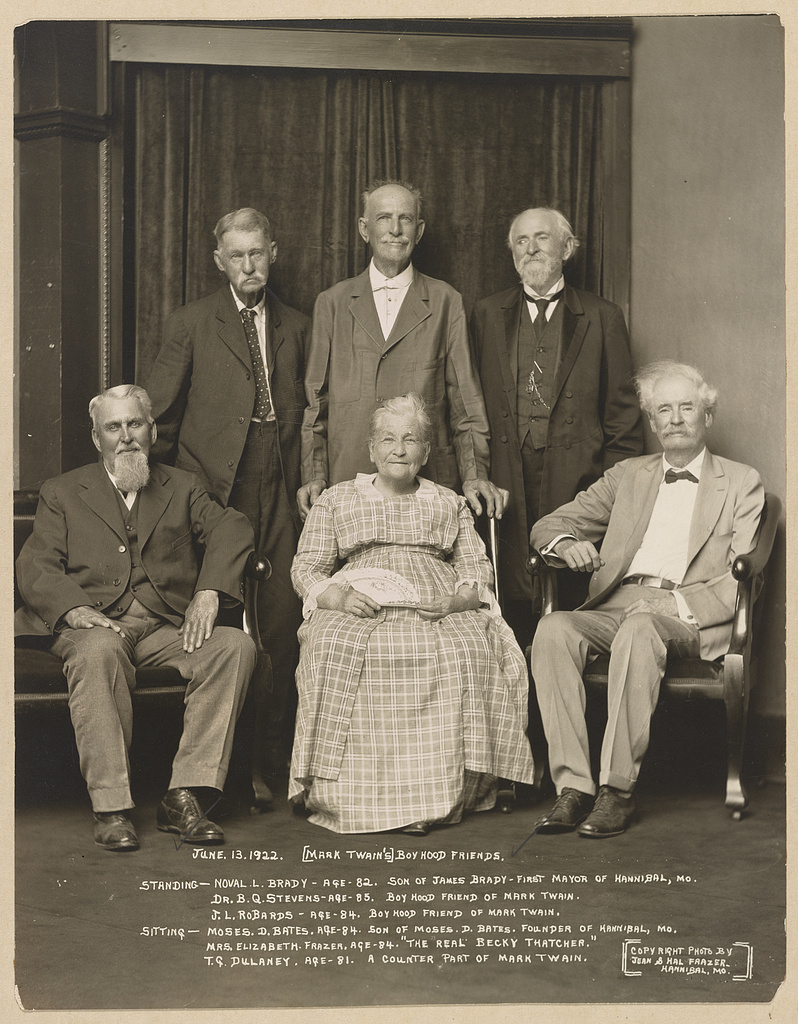 At the start of the Civil War, Twain enlisted briefly in a Confederate local unit. He then left for Nevada to work for his brother, Orion Clemens, who was Secretary of the Nevada Territory, which Twain describes in his book,Roughing It. Twain later wrote a sketch, "The Private History of a Campaign That Failed", which told how he and his friends had been Confederate volunteers for two weeks before disbanding their company.
Twain moved to San Francisco, California, in 1864, still as a journalist. He met writers such as Bret Harte and Artemus Ward.
Samuel Langhorne Clemens, Mark Twain in 1867
In 1867, a local newspaper funded a trip to the Mediterranean. During his tour of Europe and the Middle East, he wrote a popular collection of travel letters, which were later compiled as The Innocents Abroad in 1869. It was on this trip that he met his future brother-in-law, Charles Langdon. Both were passengers aboard the Quaker City on their way to the Holy Land. Langdon showed a picture of his sister Olivia to Twain; Twain claimed to have fallen in love at first sight.
Throughout 1868, Twain and Olivia Langdon corresponded, but she rejected his first marriage proposal. Two months later, they were engaged. In February 1870, Twain and Langdon were married in Elmira, New York, where he had courted her and had overcome her father's initial reluctance.
Mark Twain others in background ca. 1900 by Bain News Service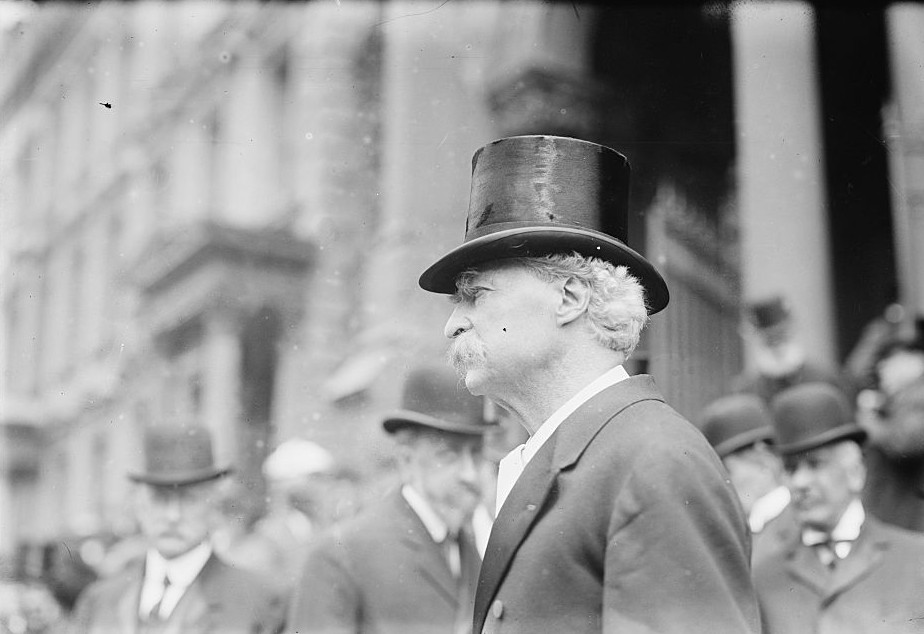 The couple lived in Buffalo, New York, from 1869 to 1871. Twain owned a stake in the Buffalo Express newspaper and worked as an editor and writer. While they were living in Buffalo, their son Langdon died of diphtheria at age 19 months. They had three daughters: Susy (1872–1896), Clara (1874–1962) and Jean (1880–1909). The couple's marriage lasted 34 years, until Olivia's death in 1904. All of the Clemens family are buried in Elmira's Woodlawn Cemetery.
Twain moved his family to Hartford, Connecticut, where starting in 1873 he arranged the building of a home. In the 1870s and 1880s, Twain and his family summered at Quarry Farm, the home of Olivia's sister, Susan Crane. In 1874, Susan had a study built apart from the main house so that her brother-in-law would have a quiet place in which to write.
House of Mark Twain, Hartford, Conn. ca. 1920
Twain passed through a period of deep depression that began in 1896 when his daughter, Susy, died of meningitis. Olivia's death in 1904 and Jean's on December 24, 1909, deepened his gloom. On May 20, 1909, his close friend Henry Rogers died suddenly.
In 1909, Twain is quoted as saying:
I came in with Halley's Comet in 1835. It is coming again next year, and I expect to go out with it. It will be the greatest disappointment of my life if I don't go out with Halley's Comet. The Almighty has said, no doubt: 'Now here are these two unaccountable freaks; they came in together, they must go out together'.
His prediction was accurate—Twain died of a heart attack on April 21, 1910, in Redding, Connecticut, one day after the comet's closest approach to Earth.
Upon hearing of Twain's death, President William Howard Taft said:
"Mark Twain gave pleasure – real intellectual enjoyment – to millions, and his works will continue to give such pleasure to millions yet to come … His humor was American, but he was nearly as much appreciated by Englishmen and people of other countries as by his own countrymen. He has made an enduring part of American literature."
Mark Twain House & Museum has restored the author's home in Hartford, Connecticut by photographer Carol Highsmith ca. 1940
Amazon.com – Read eBooks using the FREE Kindle Reading App on Most Devices