*Note: Some of the language below may be a little antiquated because its excerpts and transcriptions from a the book -Transcription from Historic Houses of New Jersey By Weymer Jay Mills .J. B. Lippincott Company – written in 1902 = The original words provide a unique glimpse of the people and early times in New Jersey.
About three miles distant from the Wallace House in New Jersey is a venerable old Dutch dwelling, reposing above the placid little Raritan. It was erected half a century before the Revolution by a member of the Van Veghten family, and it is truly an abode of merry memories, as it was the head-quarters of General Greene and his wife—the dancing Greenes—during the army's stay in Central Jersey.
R. Merritt Lacey, Photographer September 9, 1940 Exterior  -Van Veghten House, Finderne, Somerset County, NJ
The Van Veghten family were among the first Dutch pioneers in the Raritan Valley, and the name is prominent in Somerset history. At the time of the Greene occupancy of the Van Veghten House aged Derrick Van Veghten was the host, and there are traditions that he was the willing slave of the young wife, then in her early twenties.
Mrs. Greene will always be remembered as one of the brightest and sprightliest figures in Revolutionary history. Very fascinating, indeed, she was to have made the generally grave and austere Washington forget his dignity, which she did on one occasion. (We have her husband's own words, in a letter to Colonel Wadsworth, that there was a little dance at the Van Veghten House on March 19, 1779, when "His Excellency danced with Mrs. Greene for three hours without sitting down," and ending his communication with the giddily sounding sentence, "Upon the whole we had a pretty little frisk."
Gen. Nathaniel Greene and wife Catherine Greene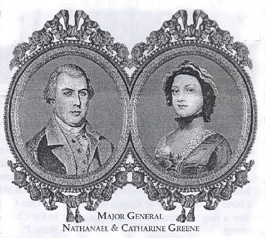 General Greene, although of Quaker origin, was exceptionally fond of "the Devil's exercise," as some of the most stern of the Quakers of Southern Jersey used to refer to dancing, and many anecdotes have come down to us of his fondness for the pastime. We read of him first as a handsome, fun-loving youth, going to balls and parties by stealth, and his stern father on some evenings parading his hallway with a horsewhip to greet him on his return home.
Gen. Nathaniel Greene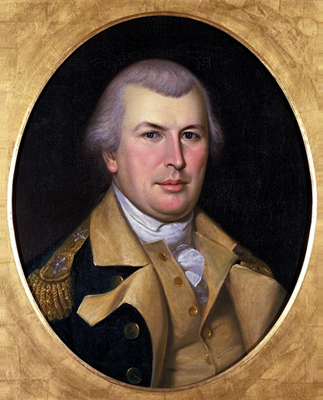 Then there are those happy dances at Block Island, the home of Mrs. Greene, who was then Miss Littlefield, the governor's ward, and so on all through his life, until his sad death at Mulberry Grove, the seat Congress voted him in Georgia, he seems to have always gone hand in hand with the frolicsome muse.
The night of his commander-in-chiefs little frisk with Mrs. Greene he too was probably tripping his merriest with some fair partner. Perhaps she was little Cornelia Lott, over from Beaverwyck, near Morristown, with her harp and French books, as Mrs. Greene's guest, or one of the Andrew girls, staying with Mrs. Knox, "fetched by the beauing Captain Lilly from Elizabeth Town." But we shall have to content ourselves with only a guess at her identity, for no record has been preserved of the company.
Catharine Greene, wife of Nathaniel Greene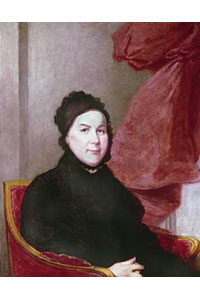 One young man, at least, who must have been there was Harry Lee, the gay Virginian for whom Mrs. Greene conceived such an affection. Upon their first meeting they were attracted to each other, and the friendship lasted all through life, Lee dying at Mrs. Greene's Georgia home.
He inherited his mother's beauty of features, who is said to have been Washington's " Lowland Beauty ;" and from his chiefs evident partiality for him, he was sometimes dubbed "the pet of the army."
R. Merritt Lacey, Photographer September 9, 1940 Exterior front door and windows – Van Veghten House, Finderne, Somerset County, NJ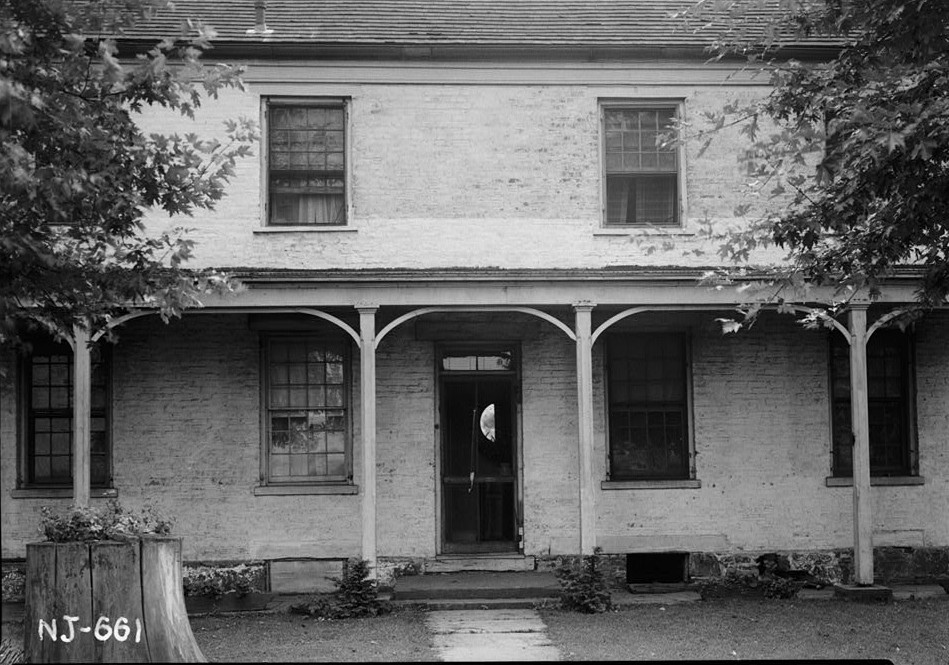 Most likely some of the gay young officers helping our cause were also present. Baron Stevens's secretary, Pierre Duponceau, was the leader in all frolicking. He was then only nineteen, and had given many proofs of his Gallic assurance since his kissing a pretty girl on a Portsmouth street to celebrate his arrival in America.
The French were very high in the country's esteem then, just after the celebration of the anniversary of the French alliance, and a French name was a passport to the best society. This feeling grew; and when a son was born to Louis XVI., at the close of the Revolution, nearly every city was en fete, and Philip Freneau put into the mouth of Prince William Henry, the lad who became King William IV., some amusing verses echoing the sentiment of the times, of which the following is a specimen:
"People are mad to thus adore the dauphin—
Heaven grant the brat may soon be in his coffin.
The honors here to this young Frenchman shown
Of right should be King George's or my own."
Besides this record of frivolity the old Van Veghten House boasts of many other stories. Its walls could tell of Mrs. Greene's long hours of serving for the soldiers, making her almost a rival of the knitting wife of Counsellor Condict at Morristown; of her planning for better quarters for the privates with her host, one of those staunch patriots who held nothing back from his country; and of her enduring devotion to the sick and suffering soldiers.
R. Merritt Lacey, Photographer September 9, 1940 Bedroom and Mantel – Van Veghten House, Finderne, Somerset County, NJ
From all that is known of Mrs. Greene, she was a fitting helpmate for a man who after undergoing all the hardships of the Revolution still retained enough sentiment in his nature to want to play "Puss in the Corner" with his wife for the sake of old times, when, after the war was over, visiting her former home at Block Island where he had wooed and won her.
Though we know of her goodness and charity, we like best to picture her on the night she made the Father of his Country dance three hours. Perhaps it was partly in memory of this dance at the Van Veghten House, when in later years she appeared at one of Mrs. Washington's state levees in Philadelphia as a widow, that the President personally brought her from and conducted her to her carriage, an honor much remarked upon at the time.
Van Veghten House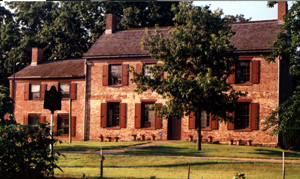 In 1897, the Meyer family acquired the house and property. The house was purchased from Bernhard Meyer in 1934 by Singer Company. In 1971, the house, with one acre of land, was deeded to the Somerset County Historical Society by Singer Company and Mr. Stanley Rustic. The house was placed on the National Register in 1979. It is now the headquarters of the Somerset County Historical Society.
SOURCES
Historic Houses of New Jersey By Weymer Jay Mills .J. B. Lippincott Company – written in 1902
Library of Congress
Wikipedia
Court records dating back to the 1630s create historical accuracy as the reader is taken back to the primitive days of colonial Virginia and Maryland where the Pattendens encounter life-changing difficulties with Indians, ducking stools, illness, massacres, death, loneliness, love, and greed.
READER REVIEW OF 

RIBBON OF LOVE: 2nd edition – A Novel of Colonial America 

 Book one: The exhilarating action and subplots keep the reader in constant anticipation. It is almost impossible to put the book down until completion. – Dr. Don P. Brandon, Retired Professor, Anderson University