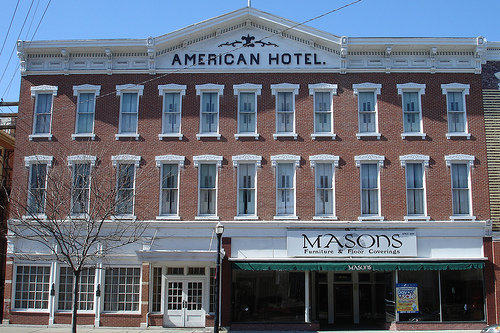 William Roth
William Roth was one of the capitalists of Pickaway County, who owned considerable farming land and a large amount of real estate in Circleville, including the American House, which is a very fine hotel, has resided here since 1872. He was born in July, 1849, in Germany, and was a son of George E. and Lizetta Roth.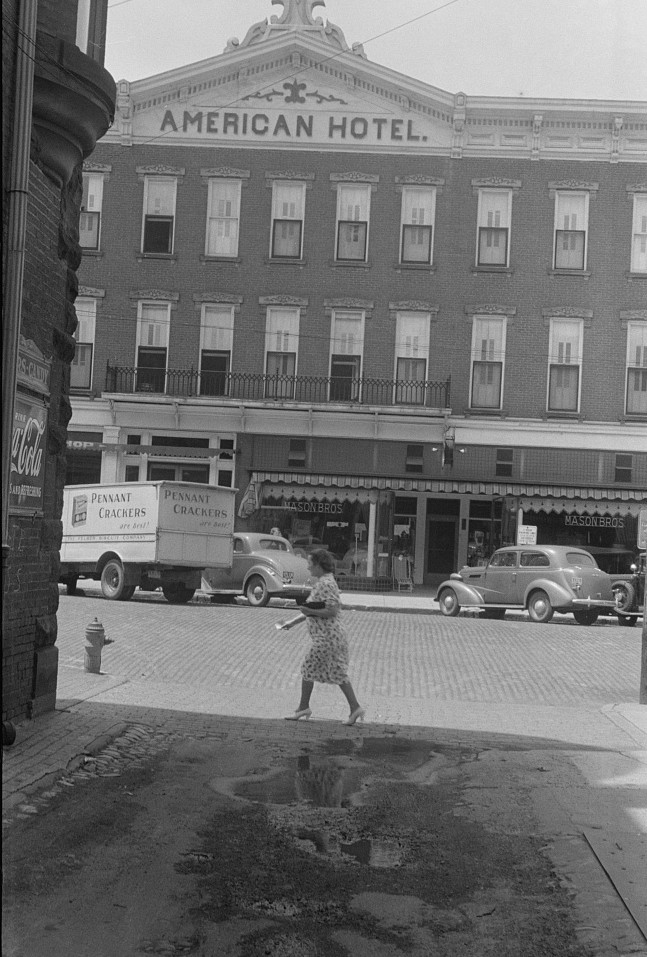 Went to school in Jeffersonville, Ohio
Mr. Roth was seven years of age when his parents came to America and located at Jeffersonville, Fayette County, Ohio. There he was reared and went to school and later learned the tanning business. In 1872 his father bought the old Jackson tannery at Circleville and operated it with the help of his sons, until his death in 1874. For two succeeding years, William Roth and his brother Albert operated the tannery, under the firm name of William Roth & Brother, and then Albert sold his interest to another brother, George E., and the business was continued under the name of Roth Brothers. They carried on the business until. 1899, tanning 150 hides a week and giving employment to 18 hands. They then retired from the tanning business, each having large outside interests to look after.
In 1876 Mr. Roth was united in marriage with Carrie Mills, who was born at Zanesville, Ohio, and who died in the fall of 1897. Two children survived her—Anna and Louise. The latter was an accomplished musician and spent three years in Europe in study at Berlin and another year at Prague. Her specialty was the violin. The people of Circleville were very much interested in her success as many remember her as a little maiden, playing a violin in the church at Circleville, when not more than six years of age. By those qualified to give an opinion, her talent is regarded as remarkable. In politics, Mr. Roth was a Republican.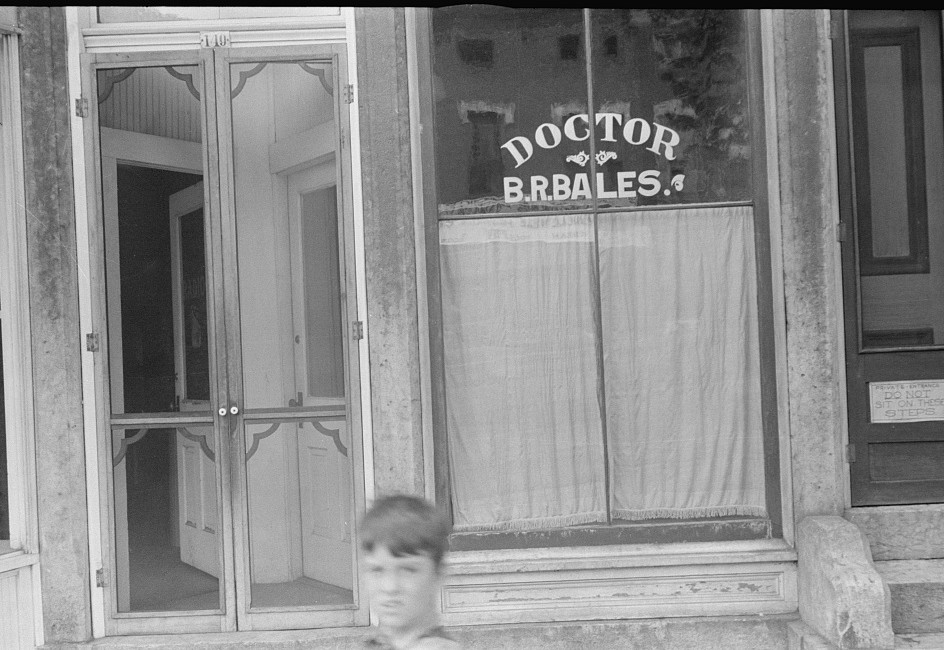 Dr. Blenn Rife Bales, M. D. 
Blenn Rife Bales, M. D. was a physician and surgeon of Circleville, where he lived since he was six years of age. He was a native of Madison County, Ohio, the son of F. Bales, senior member of the firm-of J. F. Bales & Son of Circleville, extensive grain and hay dealers. He was reared and educated in Circleville.
Taught school in Florida
After graduating from the public schools of Circleville, in 1894, Dr. Bales taught school in Florida for a year, and afterward returned to Circleville in order to take a postgraduate course in the sciences. He then read megicine with Dr. T. B. Wright, preparatory to his matriculation at Starling Medical College, Columbus, Ohio. At the end of his second year in that institution, he enlisted in Company M, Fourth Regiment, Ohio Infantry, U. S. Volunteers, service in the Spanish American War. Joining that command private, he was first placed in camp at Camp Bushnell, Columbus, Ohio; from there he was transferred to Fort Thomas, Georgia, thence to Guayama, Puerto Rico, and then was detailed for hospital service at Isabel Sigunda, Isle of Vieques, Puerto Rico. Although his work there was mostly of a surgical nature, his position in the military service was that of a private, and thus he was mustered out in February, 1899.
After his return from Puerto Rico, Dr. Bales re-entered Starling Medical College from which he was graduated in 1900. After a practice of two and a half years in Marietta, Ohio, he located at Circleville, where he established a broad reputation in the special line of obstetrics.
In 1900 Dr. B. R. Bales was married to Mary E. Jones, daughter of Jesse A. Jones, a prominent coal dealer of Circleville. They were the parents of two children by 1906, Elizabeth Alice and Blenn Darwin. The Doctor was a member of the Starling Loving Fraternity, connected with his alma mater, and was identified with such orders as the Masons, Odd Fellows, Elks, Red Men, Eagles and Woodmen of the World. He was a respected member of the Methodist Episcopal Church of Circleville.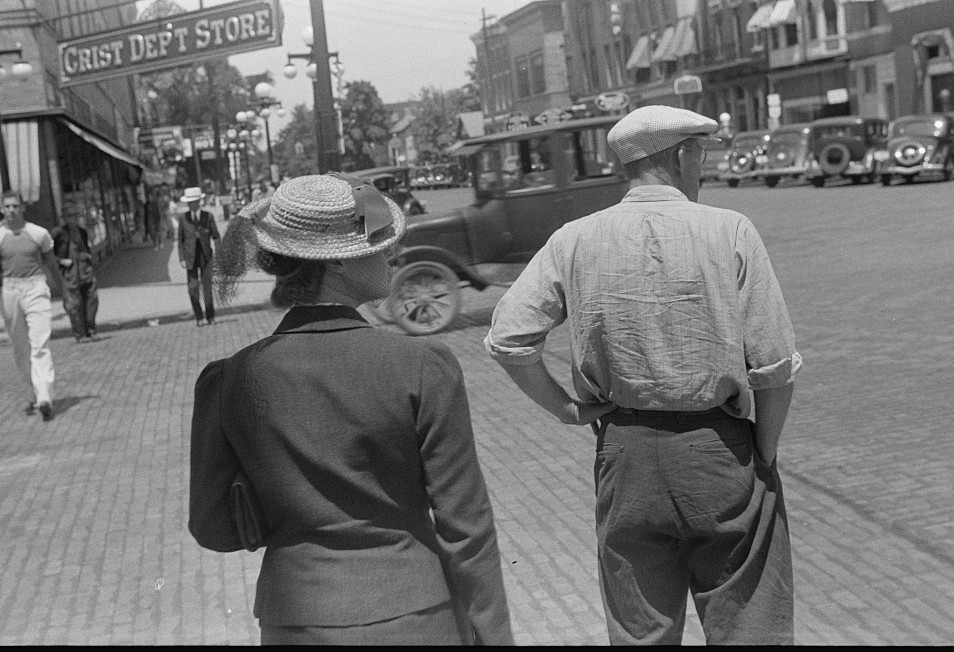 W. E. Crist
W. E. Crist, senior member of the firm of Crist & Mason, proprietors of one of the largest mercantile houses at Circleville, was born in Circleville in 1863. He was the son of Nicholas and Susan (Smith) Crist.
Born in Germany
Nicholas Crist was born on the shore of the Rhine, in Germany, and died, an old an respected man, at Circleville, Ohio, in 1870. He came to Circleville in 1836 and established himself in business and made this place his permanent home. He married Susan Smith who was also a native of Germany. They had nine children born to them. the survivors in 1906 were: Sophronia, of Circleville; Henry, of Circleville; George, of Walnut township; Mary, wifeof Joshua Glick, of Walnut township; Elizabeth, wife of Milt Morris, a prominent attorney at Circleville; Carrie, wife of E. L.Howard, of Columbus; Charles, and W.E. of this sketch. Margaret, the eldest daughter was deceased in 1906. She was the wife of Christian Schwartz, of Circleville.
Educated in Circleville
W. E. Crist was reared and educated at Circleville and his whole business life was spent here. Leaving school he became connected with the dry goods house of Wallace & Schleyer. He remained there for three and a half years and was then associated with Joseph Wallace until 1893. At that time, in partnership with Frank Mason, he embarked in a dry goods business. The firm of Crist & Mason were leaders in the line of dry goods, carpets, millinery and house furnishing goods in Circleville, conducting the leading department store there by 1906. Mr. Crist became interested in the furniture business with E. L. Howard and thoroughly understood the handling of all the commodities offered to the public in his great store.
In 1887 Mr. Crist married to Kate Mason, who is a daughter of John F. Mason, who for years was a prominent grocer Circleville. Mr. Mason was still living at the age of 84 years in 1906 and was one of the city's venerable citizens. Mr. And Mrs. Crist had one son, by 1906, Joseph Wallace, who was employed in the store. Their only daughter, Helen F., died in infancy.
Mr. and Mrs. Crist enjoyed the comforts of one of the finest homes in the city, which was situated on North Court street. The family belong to Trinity Lutheran Church. Mr. Crist was interested in the Circleville Improvement Company. He was one of the leading, enterprising public-spirited men of affairs of the city.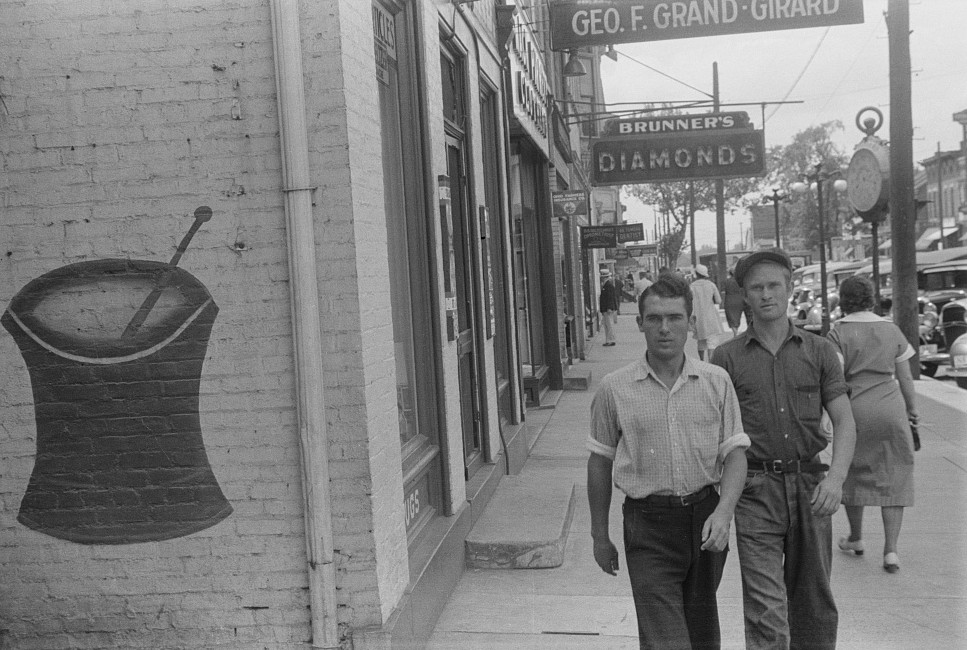 George F. Grand-Girard
George Frederick Grand Girard was one or the leading pharmacists and business men of Circleville. He was born at Red Oak Presbyterian Parsonage, Brown County,  Ohio, June 9, 1862, the son Rev. Emile F. Grand-Girard.
The Grand-Girard family originally were from the South of France  and from the Department du Gars (as the state was divided). Cheflieu, Nismes. After the Revocation of the Edict of Nantes, they found their way to Switzerland in the Canton of Berne, and there remained until the year 1777, when their children returned  to France. However, previous to the return of these religious refugees, they took the precaution of securing letters of citizenship. This letter of origin and citizenship is written on parchment and signed by D. Guillarmot, notary public. A copy was taken by Rev. Emile T. Grand-Guard  from; the original while visiting a cousin, August Grand-Girard living then at Lille, Department du Nord, France. in July. 1872.
Grandfather was a French Soldier
Our subject's grandfather, George F. Grand~Girard. was a French soldier, who followed the great Napoleon in all his varied fortunes as soldier and Emperor. He wore the eagles of the Imperial Guard. He was in Paris when Napoleon was crowned Enperor. After the war, he resumed his position in civil life as an architect  and builder in his native district. In May, 1833, he left France with his young family for America, bringing with him letters of introduction from the Marquis de La Fayette to gentlemen in New York and Cincinnati.
Rev. Emile F. Grand-Girard was born at Hericourt, France, June 4, 1816. He was for one year a student in the College of Montbeliard, where the great naturalist Cuvier was educated. He was then for three years a student in the polytechnic school at Strasburg, one of the French government schools of applied sciences at that time. At the age of 17 he came with his family to America. During the Civil War his loyalty to his adopted country was so emphatic, he was commissioned Colonel in the Ohio National Guard by the Governor of Ohio. He was ordained to the Presbyterian ministry and for 41 years was permitted to preach. With his sister, Miss Emily Grand-Girard, he was for a considerable period, in charge of the Highland Female Institute, of Hillsboro, Ohio—a very noted institution of learning in their time.
Rev. Emily F. Grand-Girard married Georgianna Herdman, of Bowling Green, Kentucky. Her ancestors, who were Scotch-Irish settled in Virginia upon coming to America. One of her ancestors, in the maternal line, was Dr. Francis Makamie. sometimes styled the "Father of Presbyterianism" in this country, as he was the first minister of the Presbyterian denomination to preach in Virginia.
George F. Grand-Girard was four years when his parents removed from Red Dak Parsonage to Hillsboro, Highland County, Ohio. On May 1, 1878, when about 16 years old, he joined his brother, Herdman E. Grand-Girard at Circleville and immediately entered the latters' store. On September 9. 1881,  he started to Cincinnati to attend the Cincinnati College of Pharmacy. On October 1, I883, he purchased his brother's drug business continued the business.
On April 13, 1886. Mr. Grand-Girard was married to Carrie Dresbach. who was a daughter the of R. P. Dresbach, one of the early settlers of the county. They had two children, Stanley and Miriam by 1906. The former attended the the Circleville High School, and was a member of the dass of 1908. Mr, Grand-Girard was for elected an elder in the Presbyterian Church for life on  January 10, 1896. He belonged to the Knights of the Maccabees.
SOURCES:
History of Pickaway County, Ohio, and Representative Citizens
READER REVIEW OF 

RIBBON OF LOVE: 2nd edition – A Novel of Colonial America 

 Book one: The exhilarating action and subplots keep the reader in constant anticipation. It is almost impossible to put the book down until completion. – Dr. Don P. Brandon, Retired Professor, Anderson University