The steam automobile was virtually silent compared to gasoline cars.
The Doble steam Car was an American steam car maker from 1909-1931. Their latter models of steam car, with fast firing boiler and electric start, were considered the pinnacle of steam car development. The term "Doble steam car" comprises any of several makes of steam-powered automobile in the early 20th century, including Doble Detroit, Doble Steam Car, and Doble Automobile, severally called a "Doble" because of their founding or association with Abner Doble.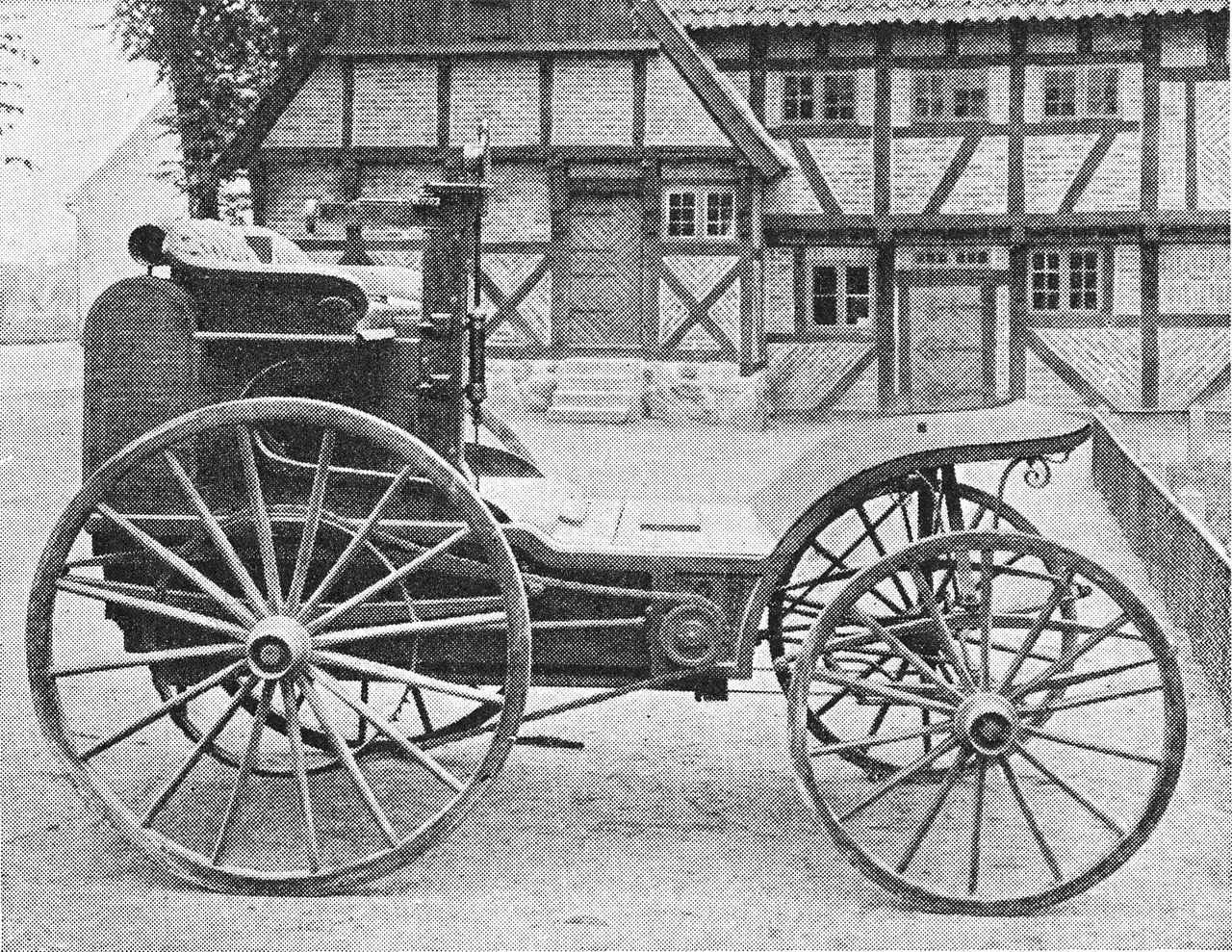 Cederholm #2, built in 1894 (Wikipedia)
Doble built his first early 1900s
Abner Doble built his first steam car between 1906 and 1909 while still in high school, with the assistance of his brothers, William, John, and Warren. It was based on components salvaged from a wrecked White Motor Company steamer, driving a new engine of the Doble brothers' own design. Abner moved to Massachusetts in 1910 to attend MIT, but dropped out after just one semester to work with his brothers on their steam cars.
Their third prototype, the Model B, led Abner to file patents for the innovations incorporated in it which included a steam condenser which enabled the water supply to last for as much as 1,500 miles.
Virtually silent compared to gasoline
Apart from its slow starting time, the Model B was virtually silent compared to contemporary gasoline engines. It also possessed no clutch or transmission, which were superfluous due to the substantial torque produced by steam engines from 0 rpm.
In 1915 Abner drove a Model B from Massachusetts to Detroit to seek investment. He managed to acquire the sum of $200,000, which he used to set up the General Engineering Company in Detroit. The Doble brothers at once began work on their Model C (also known as the Doble Detroit), which was planned to extend and expand upon the innovations pioneered in the Model B.
Defect on braking
The improvements on the Detroit promised a steam car that would at last provide virtually all of the convenience associated with a conventional automobile, but with higher speed, simpler controls, and what was a virtually noiseless power plant. The only defect sometimes noted throughout the Doble car era was less than perfect braking, which was common in automobiles of all types before 1930.
Besler Steam Car
https://www.youtube.com/watch?v=N98mXwTsx5A
Sensation at 1917 New York Motor Show
The Doble Detroit caused a sensation at the 1917 New York Motor Show and over 5000 deposits were received for the car, with deliveries scheduled to begin in early 1918. However, the Doble brothers had not entirely worked out various design and manufacturing issues, and although the car received good notices and several thousand advance orders were placed, very few were actually built, estimates ranging from 11 to as many as 80. Abner Doble blamed his company's production failure on the steel shortages caused by World War I, but the Doble Detroit was mechanically unsatisfactory. Purchasere complained that they were sluggish and unpredictable, some even reversedwhen they should have gone forward.
Solved most of remaining problems
John Doble died of lymphatic cancer at the age of 28 in 1921, and the surviving brothers reunited in Emeryville, California, setting up under the name of Doble Steam Motors. They managed to solve most of the remaining engineering problems and added even more innovations which increased the cars' acceleration and reliability. The outcome was a complete redesign, the Model D of 1922, but no more than five of the D model appear to have been built, if that. It is said that the two-cylinder compound engine sometimes gave difficulty in starting.
By 1922, the model E had been developed; this could be said to be the "classic" Doble, of which the most examples have survived.
Could run for 1,500 miles before water tank needed refilling
Twenty-four E's were made between 1922 and 1925 with a variety of body types from roadsters to limosines. Owners included Howard Hughes and the Maharajah of Bharatpur. One of the Hughes cars, a roadster engine number 20, is currently owned by Jay Leno.[ Abner Doble owned the last one – number 24.
The 1924 model Doble Series E steam car could run for 1,500 miles before its 24-gallon water tank needed to be refilled; even in freezing weather, it could be started from cold and move off within 30 seconds, and once fully warmed could be relied upon to reach speeds in excess of 90 miles per hour.
Seven model F's were made, one of which was owned by Abner Doble's wife. They were car numbers 30 to 35, and 39.
Went out of business in 1931
Doble made two further steam engines, designated models G and H respectively. These were larger units and used experimentally in several buses. The company eventually went out of business in April 1931.
George and William Besler of Davenport, Iowa, the sons of William George Besler, acquired much of Doble Steam Motors plant and patents. William also acquired a Doble E series Phaeton, engine number 14, from a Dr Mudd. This car was still in existence in 2010.
They undertook further development work with Abner Doble and created an interurban car, a railcar, and a steam aircraft. The brothers modified a Travel Air 2000 bi-plane by replacing its petrol engine with a steam engine. The plane was successfully test flown on 12 April 1933 at Oakland Municipal Airport, California. In 1936 the New Haven Railroad tested the Besler streamliner, a two-car steam railcar.
In this action-packed novel depicting true events, the family saga continues with Ambrose Dixon's family. George Willson witnesses the execution of King Charles II and is forced to leave the woman he loves to witch hunters in 17th century England as he flees to his sister, Mary, and her husband Ambrose Dixon's home in Colonial American. Ridden with guilt over difficult decisions he made to survive, George Willson and the Dixon's embrace the Quaker faith which further creates problems for their existence in the New World.