A true, personal story by Author Carmela Cattuti.
One Immigrant's Legacy
By
Carmela Cattuti
Growing up in a small city along the Hudson River gave me easy access to New York culture. The hour's train ride to Grand Central Station gave me ample time to plot my day's activity. My uncle lived on east 57th St., between Lexington and 3rd Avenue, a stone's throw from Bloomingdale's Department Store. He had an elegant abode with a signed Picasso print and a plethora of other modern art that hung in traditional New York style from the bottom to the top of the wall in his fabulous Manhattan apartment. I spent a significant amount of time there during the 1960s and was inundated with emerging New York gay culture.
Being gay then meant you hid your sexual preference from your family, but he and my mother became life- long friends. My uncle often told the story about the first time he met my mother. My father brought her to New York to meet his brother. She stood behind my father until she was introduced then stepped out and my uncle said he fell hopelessly in love. They were both filled with vitality, extremely opinionated, with a love of the extraordinary. They were kindred spirits and I think he felt she could be the link he needed to the family. From what I observed he didn't hide his life style from her, in fact, she quite enjoyed our visits with him. His partner was always included in the conversation and my mother kept him up on family drama. She invited him to all the family gatherings and encouraged him to participate whenever possible.
Zizi and Carmela Cattuti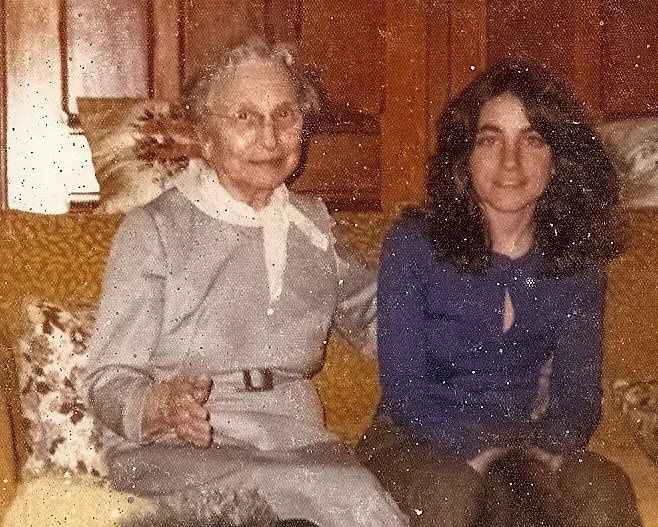 My parents married before my uncle lead a trendy New York life-style and when my mother found out that he could not travel to Boston for their wedding due to his financial circumstances, she sent him money for the train ride. She wanted him there and that created an unbroken bond between them. As I grew up I noticed that I had a sensibility similar to my uncle's. I have to admit I was more comfortable in an upscale Manhattan apartment surrounded by art than I was hanging out with my friends. As soon as I was able to travel independently, I took every opportunity to go into New York and connect with the city's vitality.  I became a visual artist partly because of the paintings that hung on my uncle's wall and because of my great aunt Angela's influence on my life.
My great aunt, Angela Barone (heroine in Between the Cracks), raised both me and my uncle. My paternal grandmother died an early tragic death. After this happened my uncle said his family fell apart; my great aunt was the solidifying element in the family. She not only raised me, my father, and my uncle, she partly raised my grandmother. When Angela arrived in this country from Sicily my grandmother was nine years old and in desperate need of attention. She injected three generations with her artistic and creative sensibility, European manners, love of good design, and fierce self-expression. Angela made manifestation of creative vision look easy. She was a superb seamstress and made all my clothes. In fact, I did not completely buy off racks until I was thirty years old.
Messina, Sicily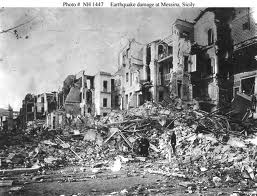 Angela's contribution to her family and community was far-reaching. She was well-respected among her peers and was a driving force in the Italian American community in our small city. Angela was a survivor of the 1908 earthquake in Messina, Sicily. Before the earthquake, Messina was a city of about 150,000, sadly, after the earthquake 100s were left. She was the only one in her circle of Italian friends who had experienced this tragedy. Her need to tell her story was dire so she chose me as a repository for her story's safekeeping. This was her gift to me. I wrote Between the Cracks to not only share her story and honor her history, but to demonstrate the magic of determination, persistence, and vulnerability in the face of insurmountable odds.